Description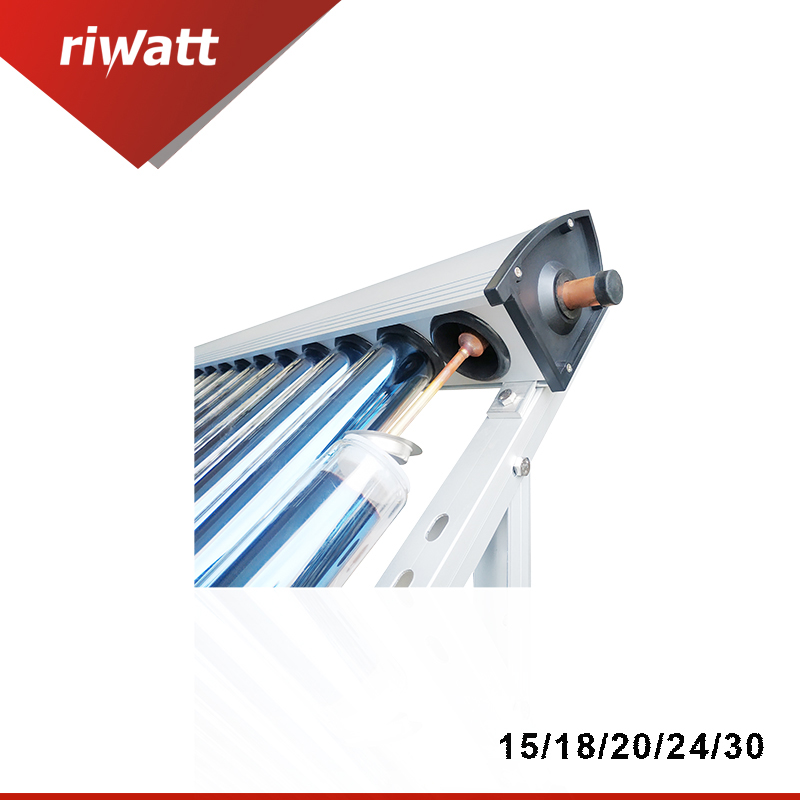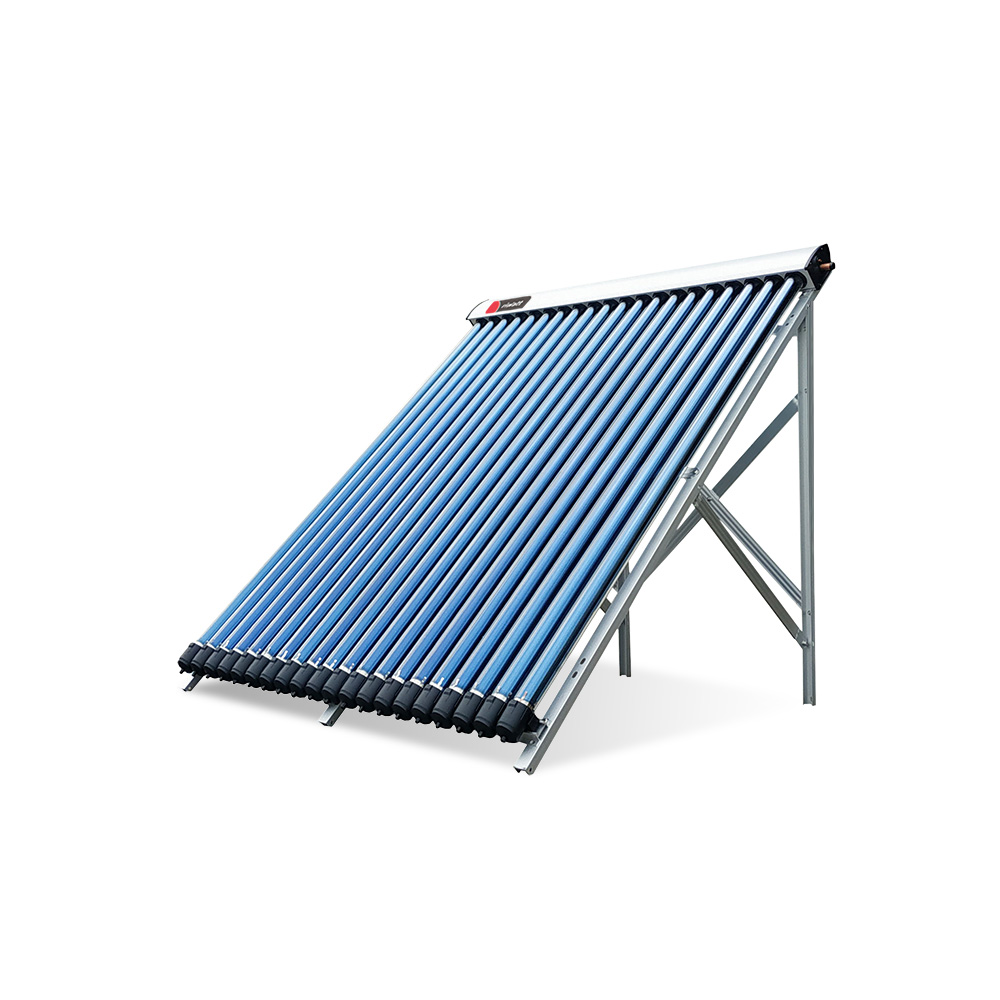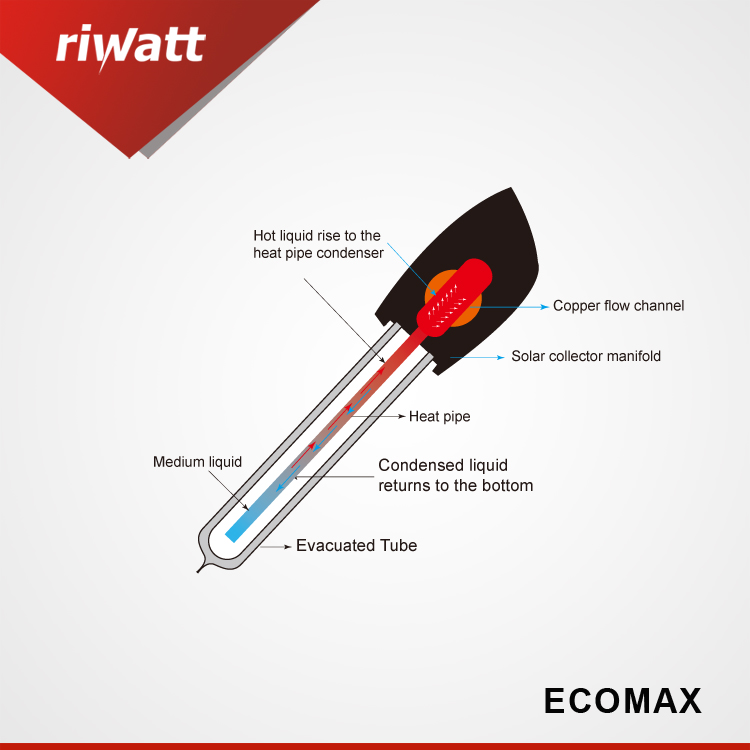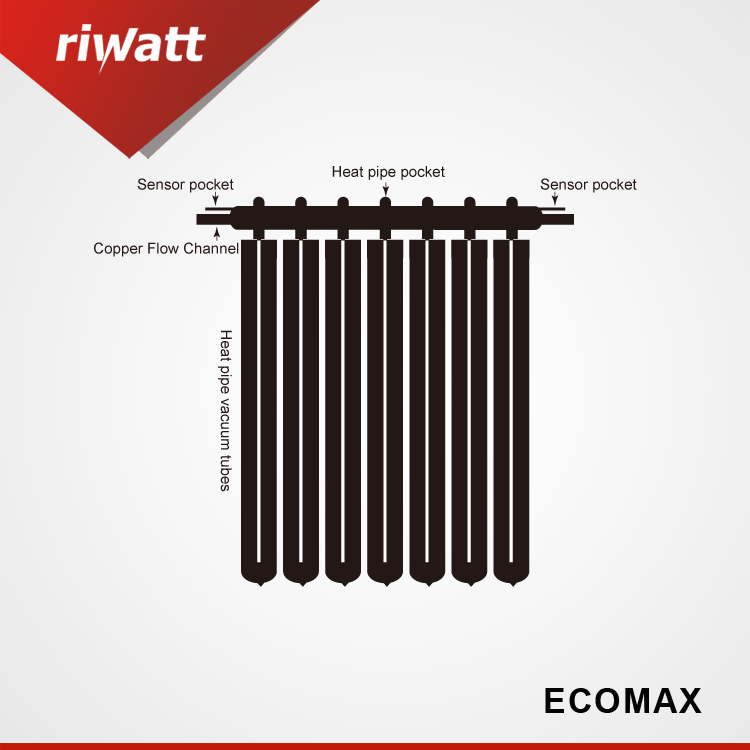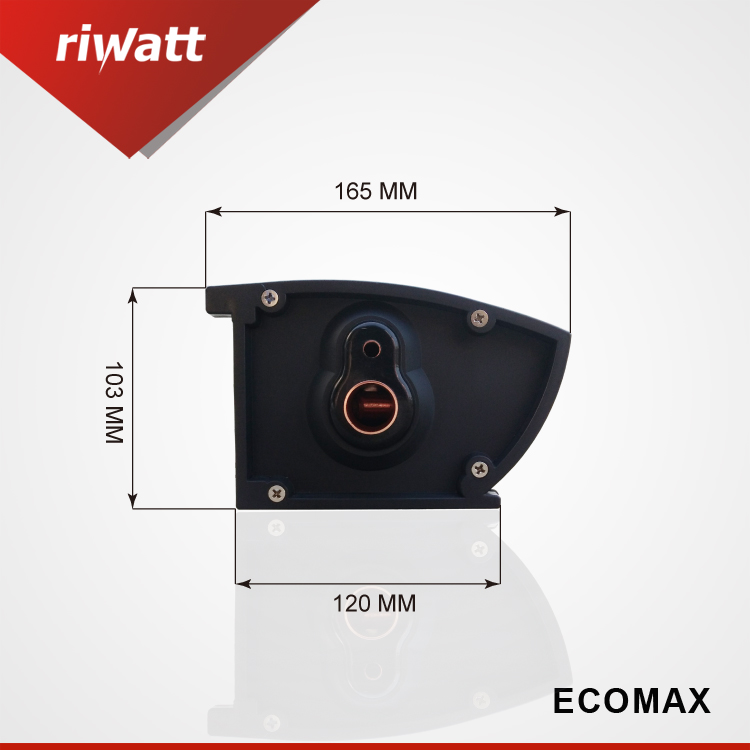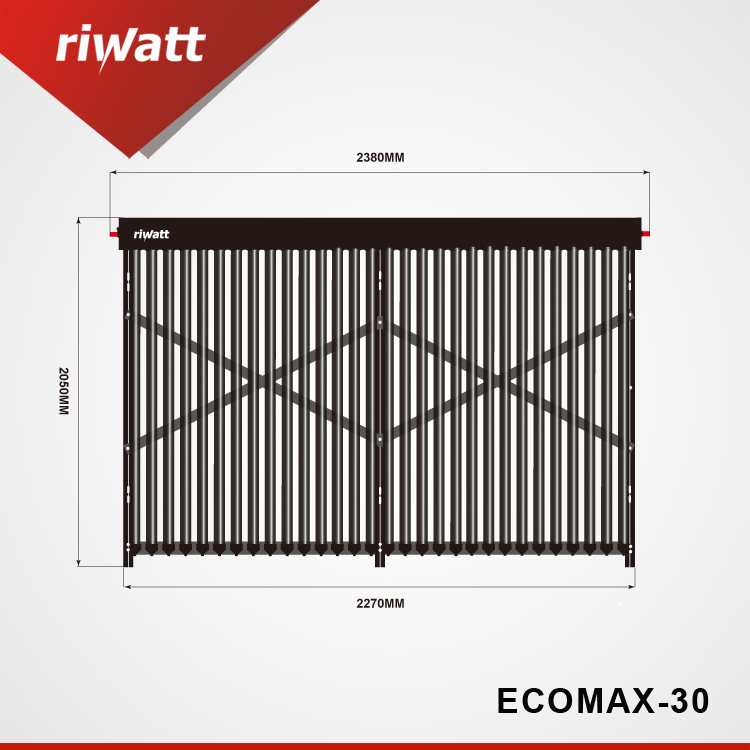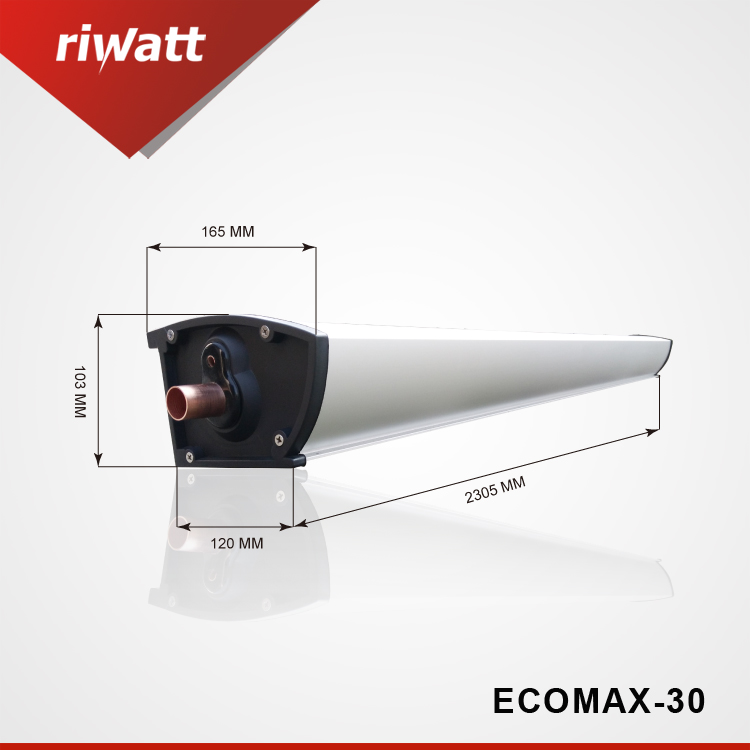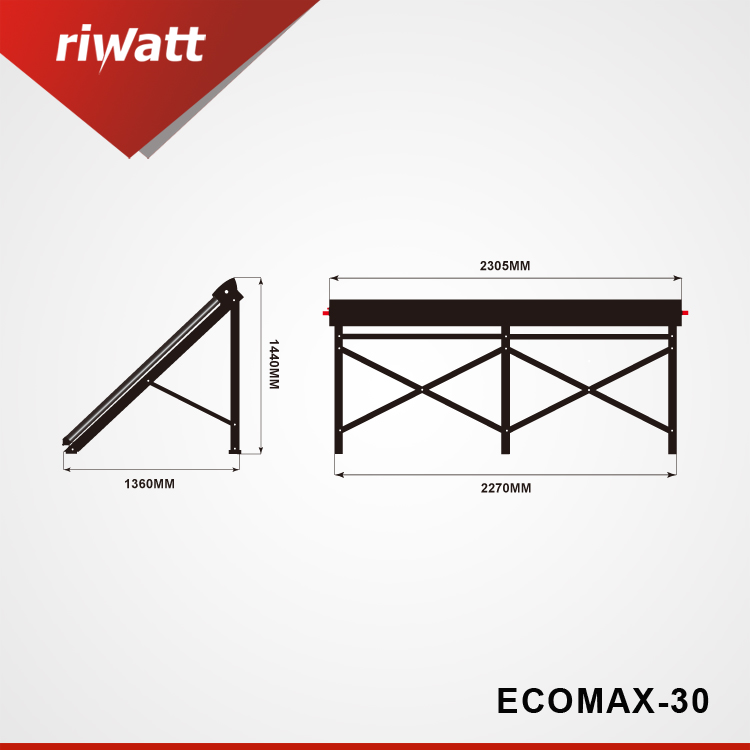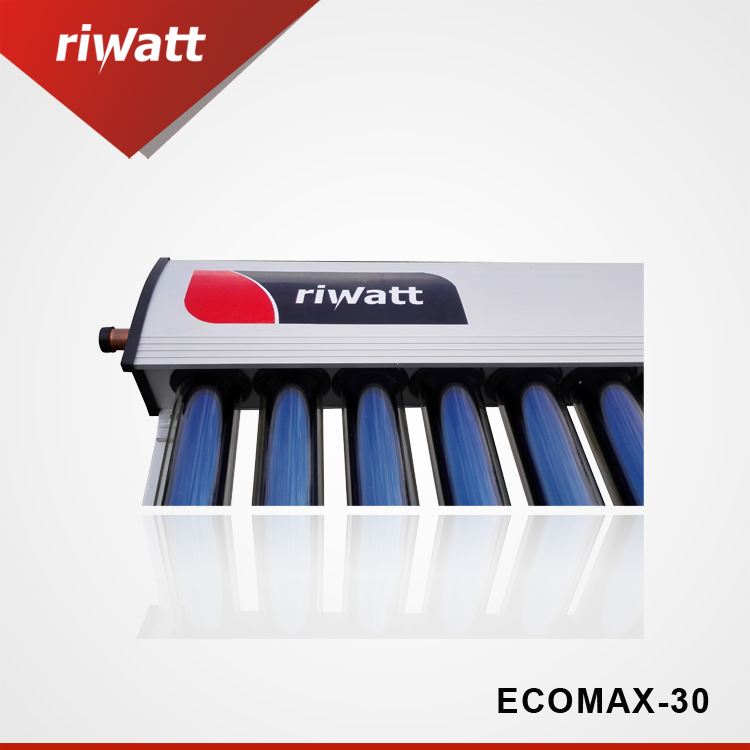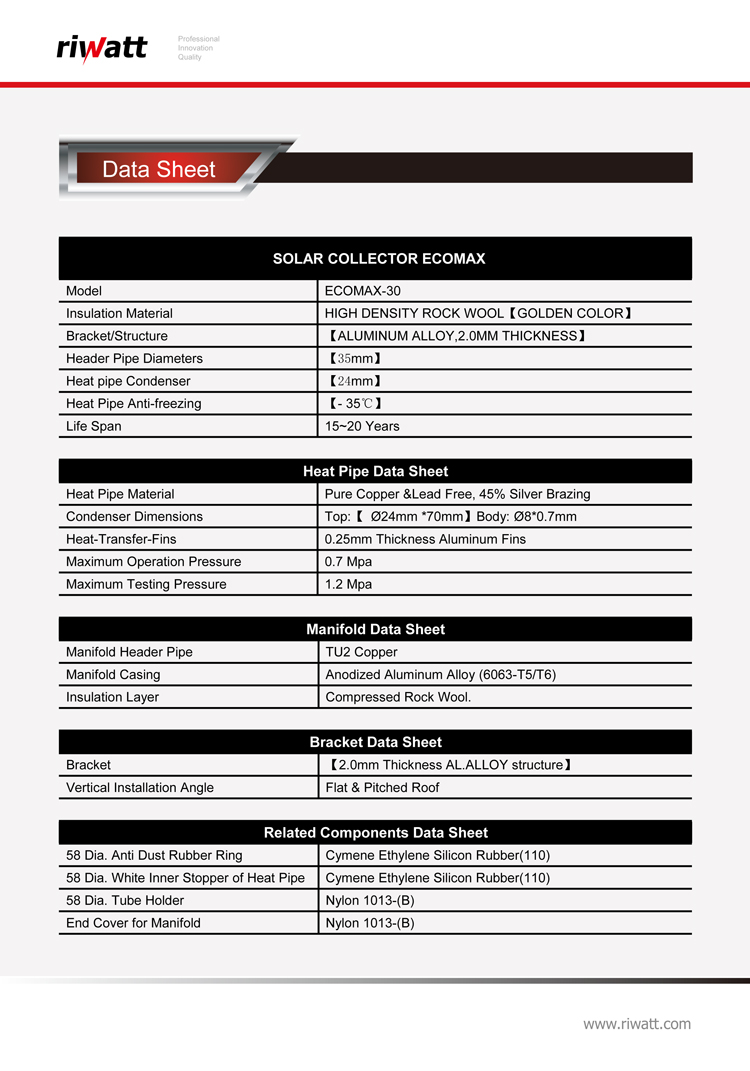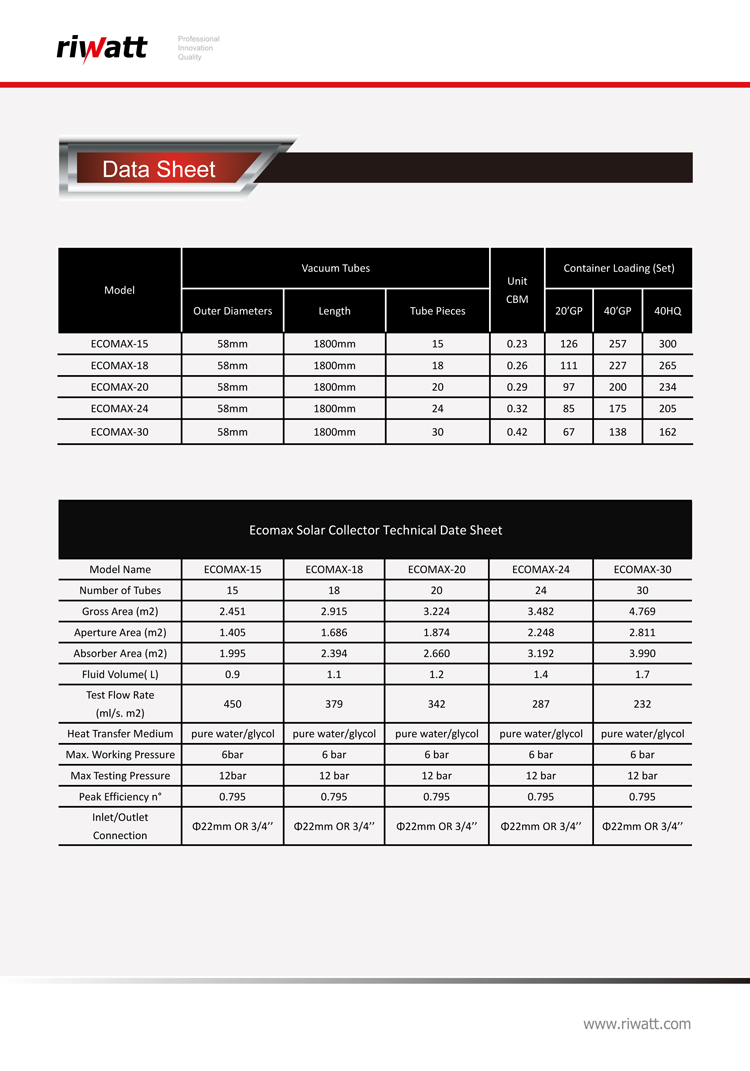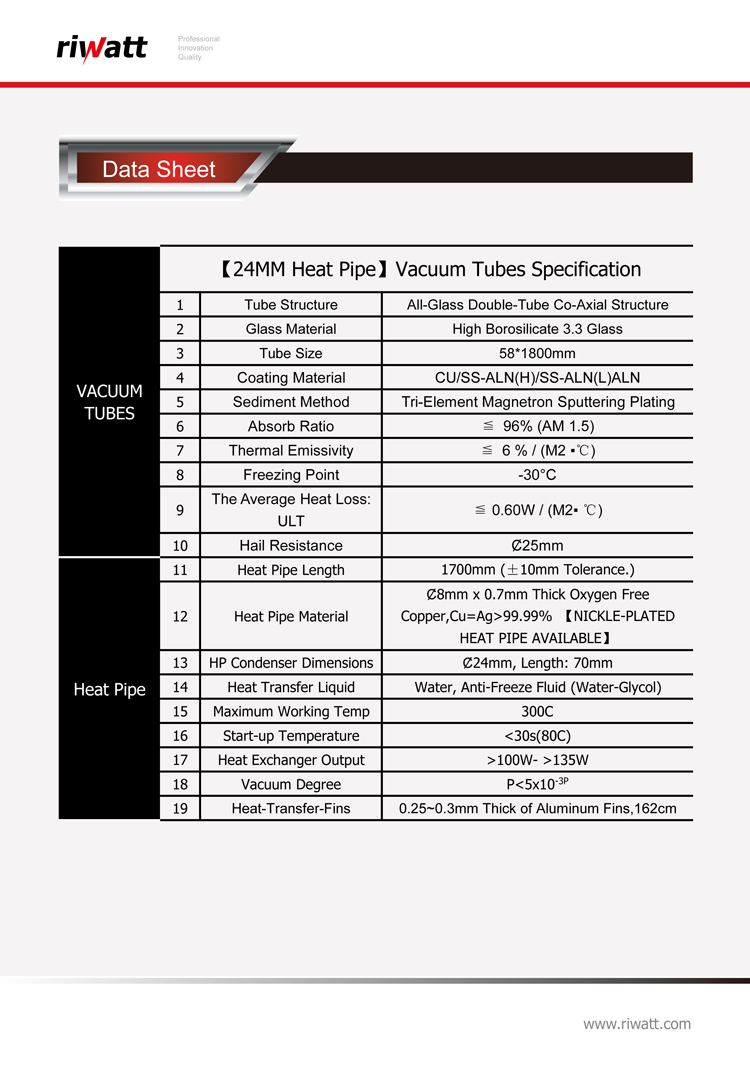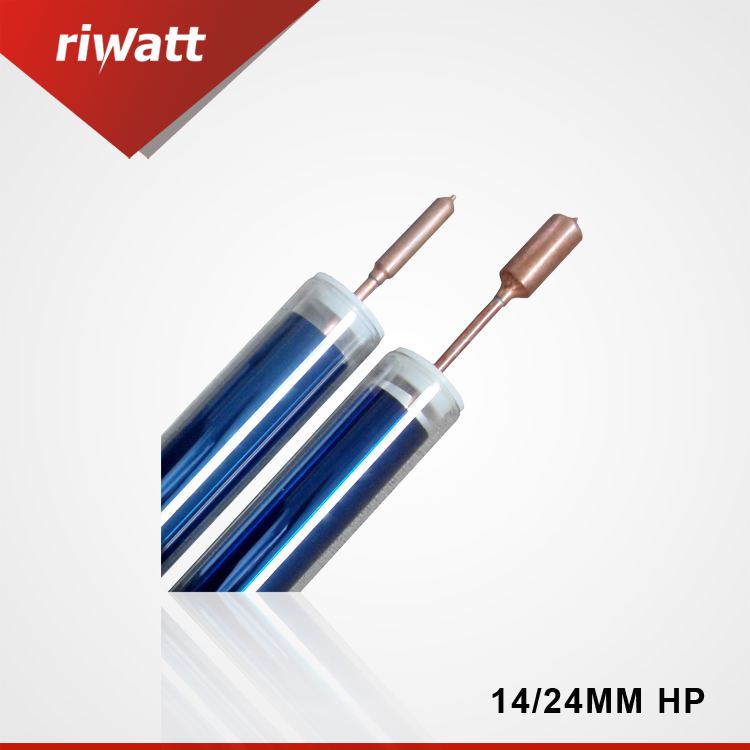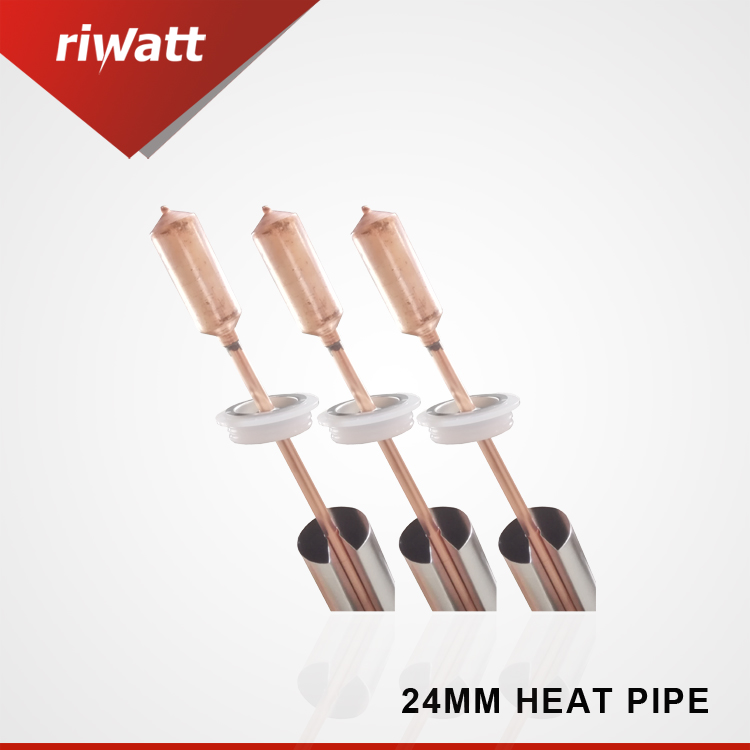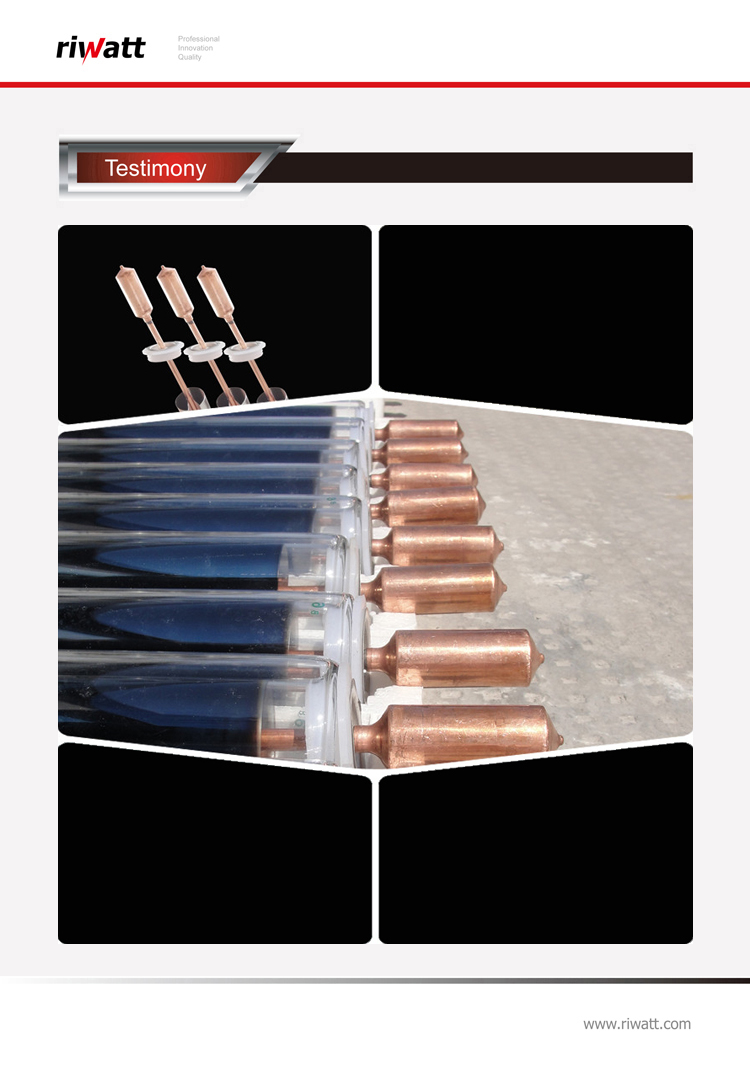 Principle:
Evacuated tube solar collector use evacuated tubes to absorb solar energy then transfer energy to heat pipe via aluminum fin, when heat pipe is heated and working liquid vaporize and rise to top of heat pipe condenser (condenser is inserted into the mainfold port inside the solar collector manifold), when the heat pipe condenser meet cold water flow inside the manifold port, the working liquid will cool down and fluidify return to the bottom of heat pipe, so time and time again repeat this process, finally cold water(glycol) inside the manifold port be heated.
Model
Vacuum Tubes
Unit CBM
Container Loading (set)
Outer diameter
Length
Tube Pieces
20'GP
40'GP
40HQ
ECOMAX-15
58mm
1800mm
15
0.23
126
257
300
ECOMAX-18
58mm
1800mm
18
0.26
111
227
265
ECOMAX-20
58mm
1800mm
20
0.29
97
200
234
ECOMAX-24
58mm
1800mm
24
0.32
85
175
205
ECOMAX-30
58mm
1800mm
30
0.42
67
138
162
Solar Collector Technical Date Sheet
Model name
ECOMAX-15
ECOMAX-18
ECOMAX-20
ECOMAX-24
ECOMAX-30
Number of tubes
15
18
20
24
30
Gross area (m2)
2.451
2.915
3.224
3.482
4.769
Aperture area (m2)
1.39
1.66
1.85
2.22
2.77
Absorber area (m2)
1.207
1.449
1.61
1.931
2.414
installation size (L*W * H)
2060*1190*1450
2060*1412*1450
2060*1565*1450
2060*1865*1450
2060*2315*1450
Weight empty (KG)
53
63
70
84
105
Fluid volume( L)
0.9
1.1
1.2
1.4
1.7

Test flow rate(ml/s. m2)

450
379
342
287
232
Heat transfer medium
pure water/glycol
pure water/glycol
pure water/glycol
pure water/glycol
pure water/glycol
Working pressure
6bar
6 bar
6 bar
6 bar
6 bar
Max testing pressure
12bar
12 bar
12 bar
12 bar
12 bar
Stagnation temperature
280°C
280°C
280°C
280°C
280°C
Peak efficiency n°
0.795
0.795
0.795
0.795
0.795
Inlet/outlet connection
Φ22mm
Φ22mm
Φ22mm
Φ22mm
Φ22mm
Key points
* High performance evacuated tube collectors
* Can be mounted free-standing or on a pitched roof, easy to install, simple roof fixings
* Heat pipe – offer low maintenance
* No water in the vacuum tubes, no freezing problem in winter, can be used in cold area. One broken tube will not affect the function of the system.
* 3 years warranty, 20+ years lifespan
* Market leading efficiency/output
* Triple layer selective absorber coating, absorption coefficient >94%
* Evacuated tube outer tube thickness >1.8mm
* 14mm high conductivity heat pipe condenser, Nick-coated condenser surface.
* Aluminum frame, strong structure, light weight.
* High and constant pressure of polyurethane foaming technology ensure the outstanding insulation quality.
Pre-installation Considerations
Before installation, please note:
1. Installation personnel must wear gloves, avoiding to scratch hands due to glass tubes broken during the installation.
2. When touching the condenser and collector's pipe head of heat pipe during installation, should pay attention to scald.
3. If collector is installed on the simple roof, collector' weight to the effect of roof capacity should be considered.
4. When installing the collector, please take into consideration the issue of wind and snow loading. High wind and snow regions may require inspection and approval by an authorized engineer or the local building department. It is the responsibility of the installation officer to ensure that the frame mounting is of suitable strength points.
5. To have the best performance, please make sure the installation angle at 15-75 degree.