3000L factory solar hot water heating system
1. 3000L  water tanks made in our factory are of SS 304,inner tank: 0.7mm
2. Inbuilt copper coils: 25 meter +25 meters, total: 50 meters, coil diameter: 19mm dia. thickness: 0.8mm
3. Heat pipe solar collector: 25 tubes * 12 sets
4. Central controller box: 1 pcs
5. Circulation pump: 1 use 1 back up
6.Water tank diameter: can customized
7.Insulation layer thickness: 50mm or 100mm or customized
8.Water tank connection size: 3/4" or 1" or 1.25" or 1.5" or customzed
9.Water tank optional accessories: electric heating element (backing up heating source) & water level & temperature sensor
10. OEM/ODM service available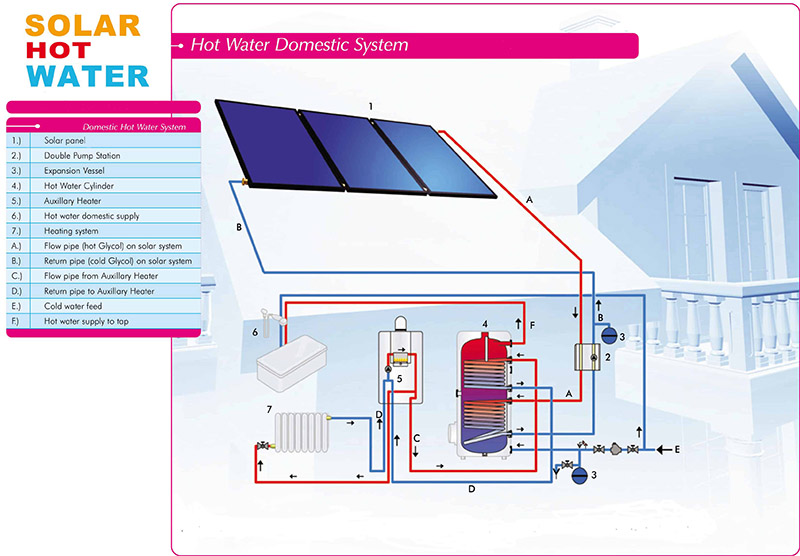 3000L factory solar hot water heating Feature:
Hotels, apartments, fitness centers, spas, factories, schools, hospitals and other public places need to use a lot of hot water every day and energy expenditures account for a large part of the cost.
One-time investment in solar heating can recover investment costs in 2 to 4 years.
Solar heating system can be used  for 15-20 years, so it is obviously to see the fixed income in the future.
Solar heating systems are becoming popular in central heating systems.
Hotel pressurized solar hot water heating system is mainly designed for central heating projects of 20 persons or more.
The larger the project, the more obvious the effect of energy saving and cost reduction.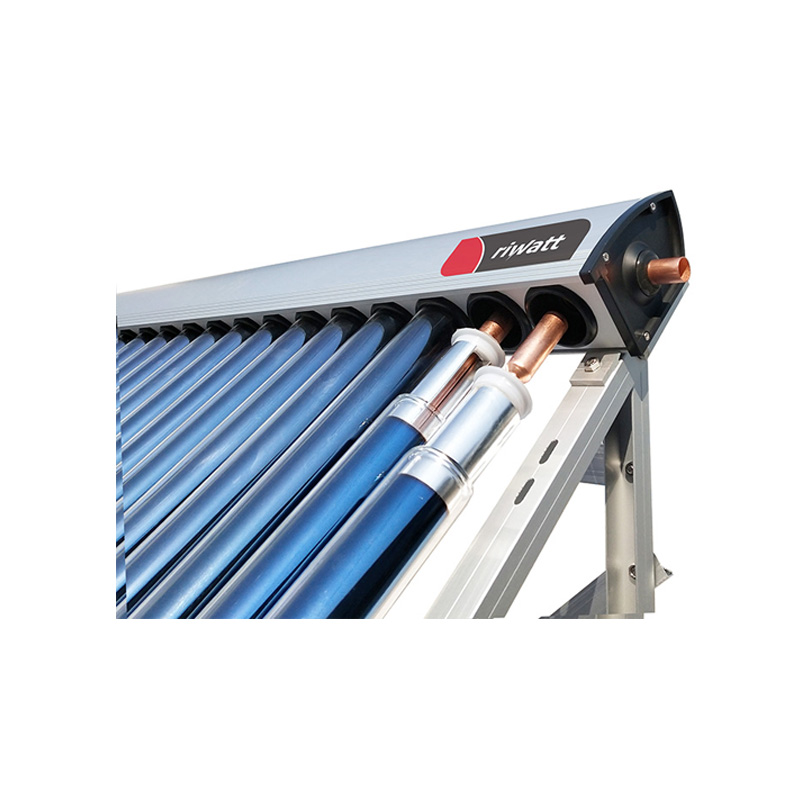 Pressurized 3000L Solar Water Heating Design Features:
The design uses a solar heat pipe collector and an unpressurized storage hot water tank with 1 coil at the bottom.
The bottom coil is used for the solar collector circulation heating system.
The solenoid valve in the tank help feed water.
Generally a booster pump need to be added into system hot water supply.
Pressurized 3000L Solar Water Heating Design Principle:
In solar energy central heating projects, the following factors should be fully considered:
Initial temperature of water
User request on water temperature
Sun insolation in the city where the project is located
According to the sun insolation in winter, increase solar collector area
According to the sun insolation in summer,reduce solar collector area
Solar collector and tank installation location
Original heating equipment utilization, connection and intelligent control
Design of backup heating systems
Pressurized 3000L Solar Water Heating Installation
Solar collectors can be installed on the ground, on the flat roofs or inclined roofs where have efficient sunshine.The brackets need to be fixedly connected with mounting base
Water tank is placed on the ground or on the roof.
Circulating pump is fixed on the ground or wall and needs to be protected from rain and water.
Metal pipe is used as circulation pipe such as red copper pipe or stainless steel bellows pipe. PPR pipe is avoided.
Solar collector is installed in a symmetrical matrix to avoid unequal pipeline flow and short circuit.
ANY PENDING QUERIES, PLEASE FEEL FREE TO CONTACT US:
Mobile: +86 180 0660 1051
Inquiry E-Mail: info@riwatt.com
Web:www.riwatt.com