Description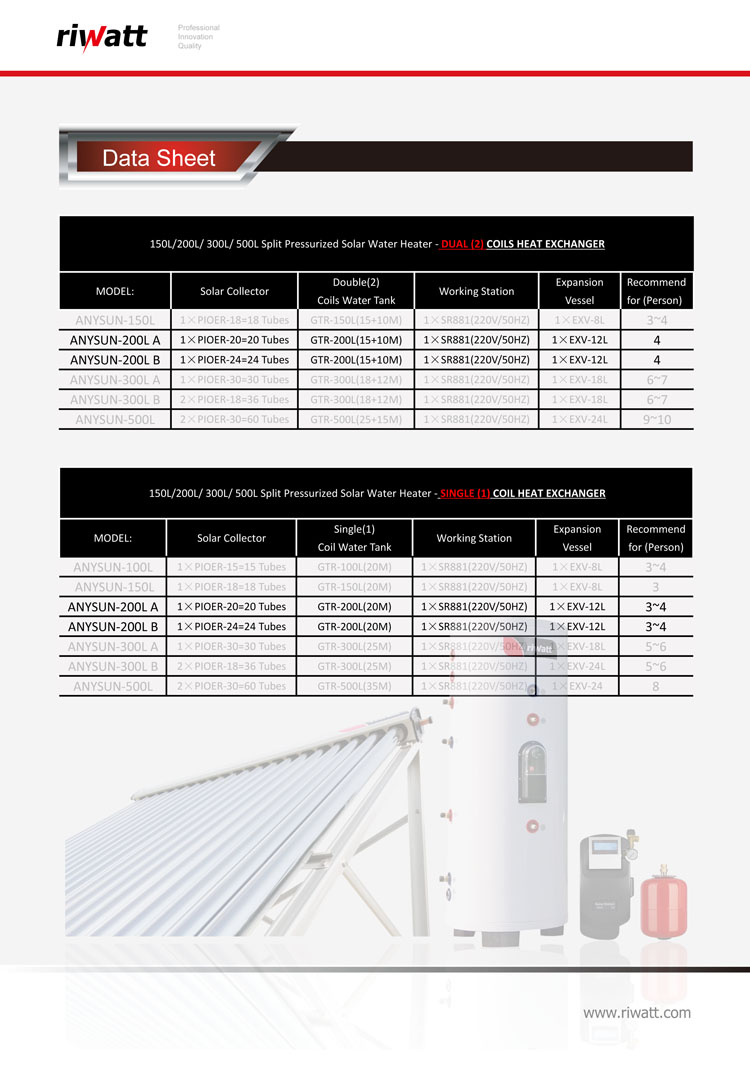 Evacuated Tube Heat Ppie Solar Collector Technical Parameters
Specification
PIONEER-15
PIONEER-18
PIONEER-20
PIONEER-24
PIONEER-30
Absorber Area(m²)
1.995
2.349
2.66
3.192
3.99
Aperture Area(m²)
1.405
1.686
1.874
2.248
2.811
Gross Area(m²)
2.451
2.915
3.224
3.482
4.769
Connection Diameter(mm)
22
22
22
22
22
Collector Capacity(L)
0.9
1.1
1.2
1.4
1.7
Test Flow Rated(ml/s.m2)
450
379
342
287
232
Heat Transfer Medium
Pure Water/Glycol
Angle of Inclination(°)
adjustable and non-adjustable(15-90°)
Typical Operating Temperature(℃)
-40℃≤T≤130℃
Max. Stagnation Temperature(℃)
≥230℃
Max. Operation Pressure(MPa)
0.7
0.7
0.7
0.7
0.7
Thermal Performance
Efficiency Equation
η0=0.681-1.60Ti*-0.006GTi*2
Peak Efficiency Intercept(based on aperture area)
η0: 0.795
Yield Forecast(kWh/m²a )
579
579
579
579
579
Manifold Casing
Manifold Material
6063 Aluminum Alloy
Color
silvery white or black
Insulation
Material
High Density Comressed Rock Wool
Insulation Factor
K-factor: 0.03 W/(m.K)
Evacuated tube
Specification of Evacuated Tube(mm)
Φ58×1800
Φ58×1800
Φ58×1800
Φ58×1800
Φ58×1800
Gap Between Tubes
75
75
75
75
75
Number of Evacuated Tubes
15
18
20
25
30
Vacuum Tube Material&Size
 High Borosilicate 3.3 glass/58*1800mm
Absorber Coating
【Cu/SS-ALN(H)/SS-ALN(L)/ALN】(Three Target)
Coefficient of absorption
0.93-0.96> 92% (AM 1.5)
Coefficient of emission
0.04-0.06(800C±50C)
Heat Pipes& Heat Transfer Fins
Working Medium
Super Conductivity Technology
Operating Pressure(mm)
0.7Mpa(max operation pressure)
Startup Temperature
≤30℃
≤30℃
≤30℃
≤30℃
≤30℃
Copper Type
TP2
TP2
TP2
TP2
TP2
Evaporation Part Diameter(mm)
Φ8mm
Φ8mm
Φ8mm
Φ8mm
Φ8mm
Condensation Size(mm)
Φ14/24mm
Heat Transfer Fins
3003 Aluminum Alloy
Silicon Ring
Material
Silicon Rubber
Silicon Rubber
Silicon Rubber
Silicon Rubber
Silicon Rubber
Density
1.1 Mg/m3
Packing
Standard Packing
Foam and cardboard carton
Net Weight(kg)
51
60
66
82
99
Gross Weight(kg)
62
72
80
100
115
QTY in 40FT Container(pcs)
260
220
200
160
130
Pressurized Water Storage Tank Data Sheet
MODEL
Inner Dia.
Thickness
Thickness
Out Dia.
Thickness
Single Coil (m)
Dual Coil (m)
GTR-100L
360 mm
1.0 mm
55 mm
470 mm
0.5 mm
20
–
–
GTR-150L
360 mm
1.2 mm
55 mm
470 mm
0.5 mm
20
12
10
GTR-200L
450 mm
1.5 mm
50 mm
550 mm
0.5 mm
20
15
10
GTR-300L
480 mm
1.5 mm
50 mm
580 mm
0.5 mm
25
18
12
GTR-400L
580 mm
2.0 mm
60 mm
700 mm
0.5 mm
30
20
15
GTR-500L
580 mm
2.0 mm
60 mm
700 mm
0.5 mm
35
25
15
GTR-600L
580 mm
2.0 mm
60 mm
700 mm
0.5 mm
35
25
15
GTR-700L
580 mm
2.0 mm
60 mm
700 mm
0.5 mm
40
28
17
GTR-800L
800 mm
2.5 mm
100 mm
1000 mm
0.5 mm
45
30
20
GTR-1000L
800 mm
2.5 mm
100 mm
1000 mm
0.5 mm
50
35
25
Pressurized Water Storage Tank Specification
Insulation layer:
High-density polyurethane foamed
Inner tank material
Food grade SUS 304-2B/316L
Outer tank cover material
Painted steel
Heat preservation layer
High pressure automatic polyurethane foaming layer
Heat exchanger specs
TU1 copper (red copper) or stainless steel
Drain port
3/4″ female NPT (bottom of tank)
T/P Port (exhaust port)
3/4″ female NPT (for T/P Valve)
Accessories
In-built electric heater element︱Magnesium anode︱T/P valve︱Check valve︱Tank feet︱Screws
Packing Dimension(mm)
GTR-100L
1130×560×560
GTR-500L
1980×780×780
GTR-150L
1520×560×560
GTR-600L
2280×780×780
GTR-200L
1480×640×640
GTR-700L
2580×780×780
GTR-300L
1800×680×680
GTR-800L
2000×1100×1100
GTR-400L
1700×780×780
GTR-1000L
2300×1100×1100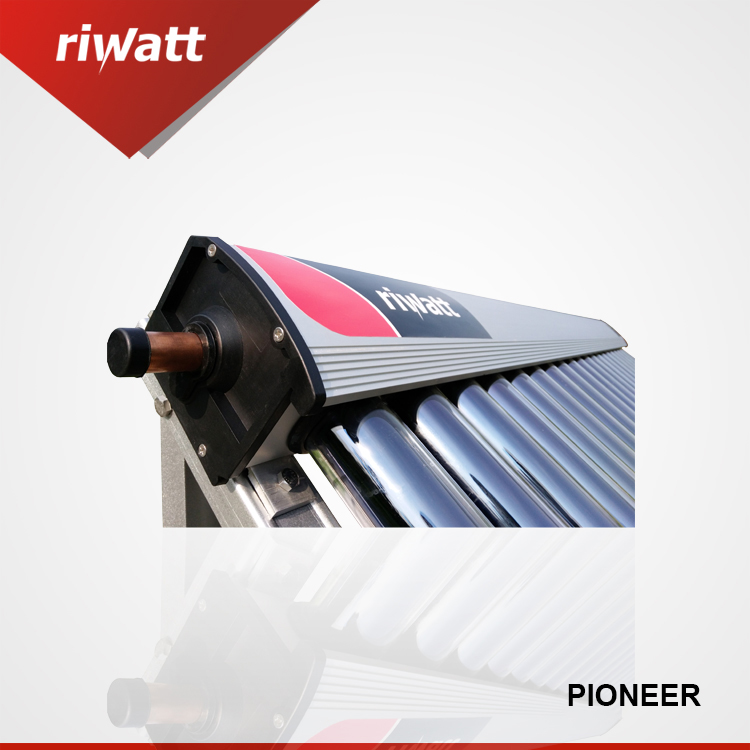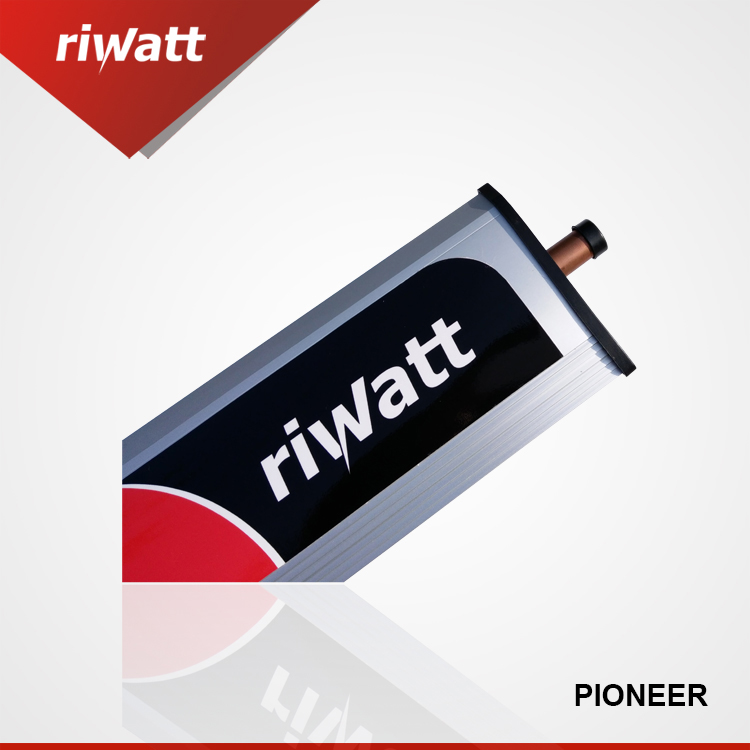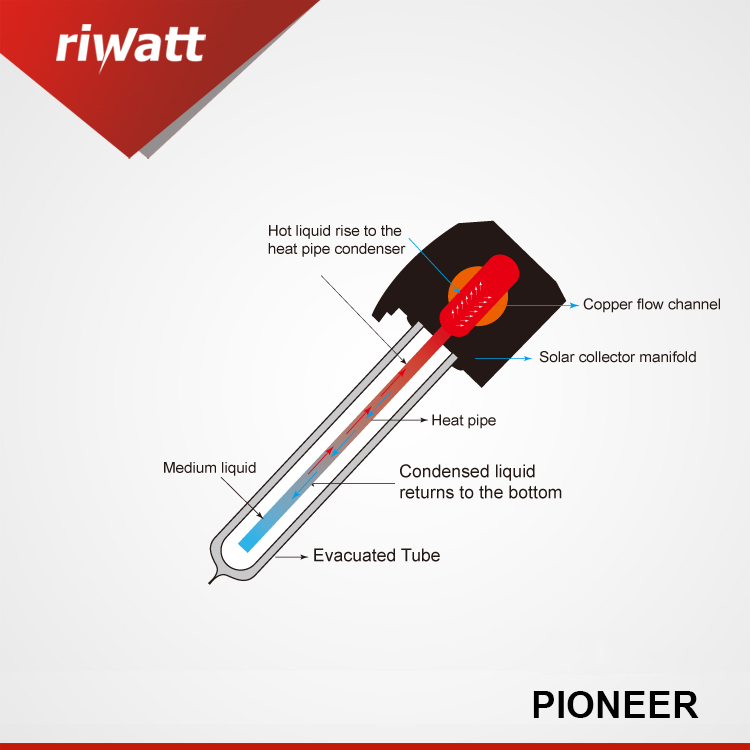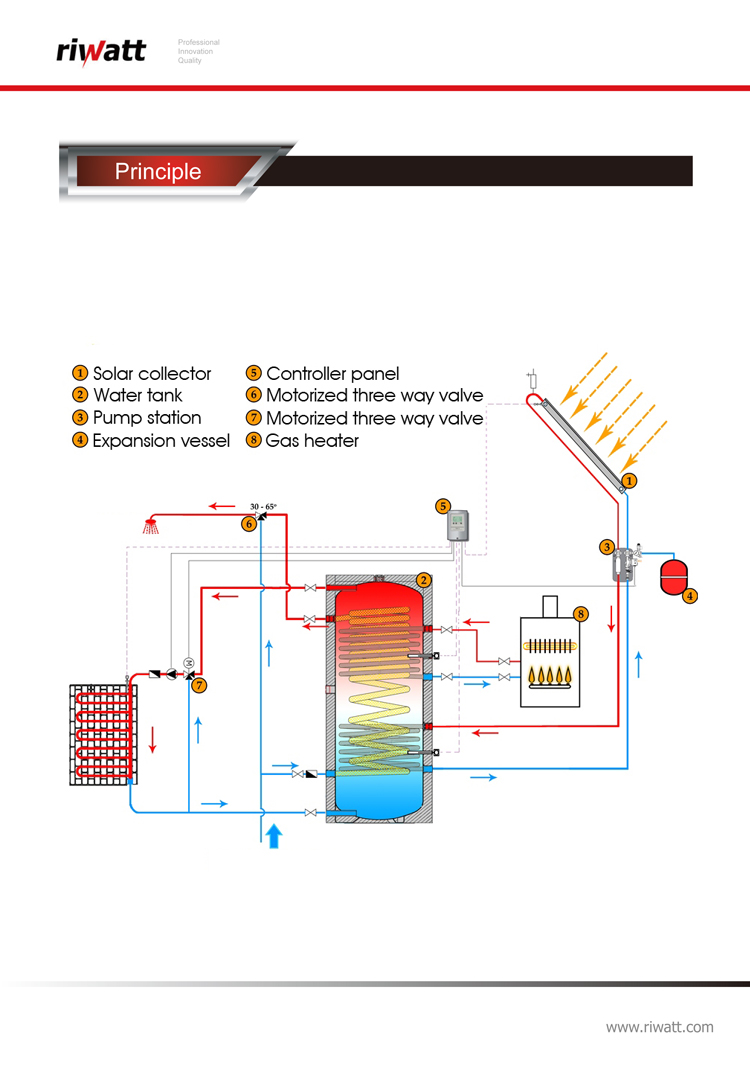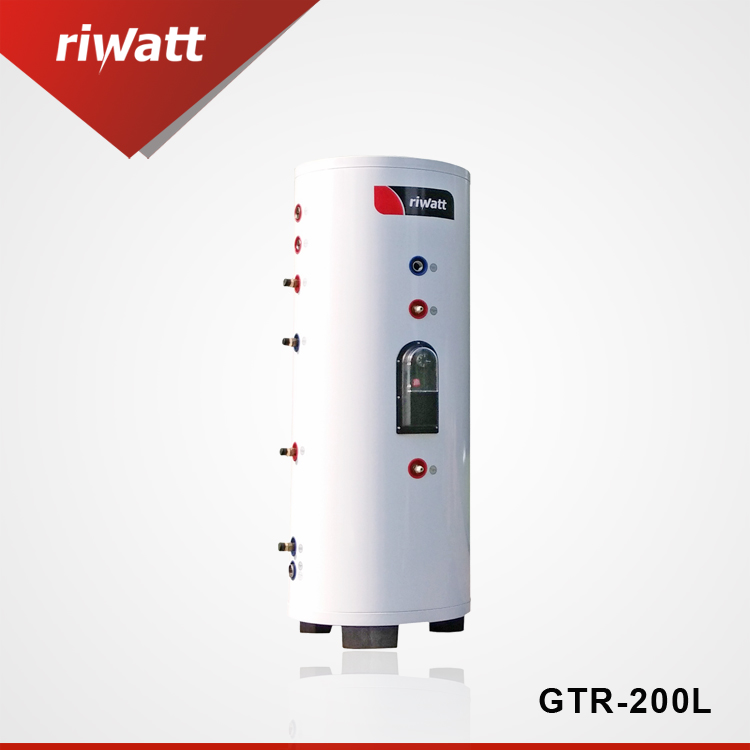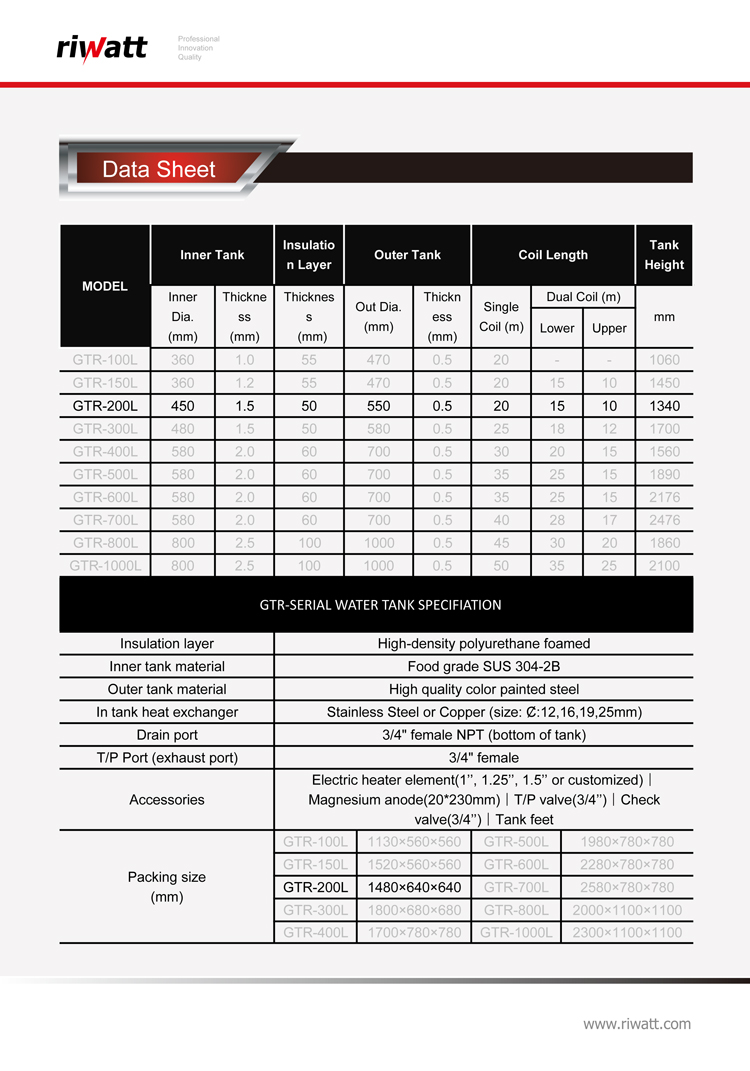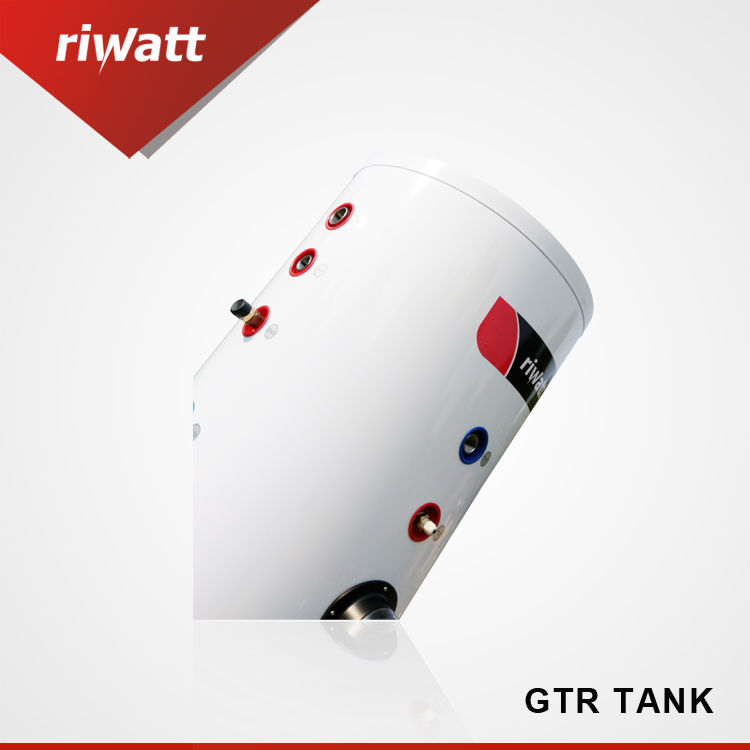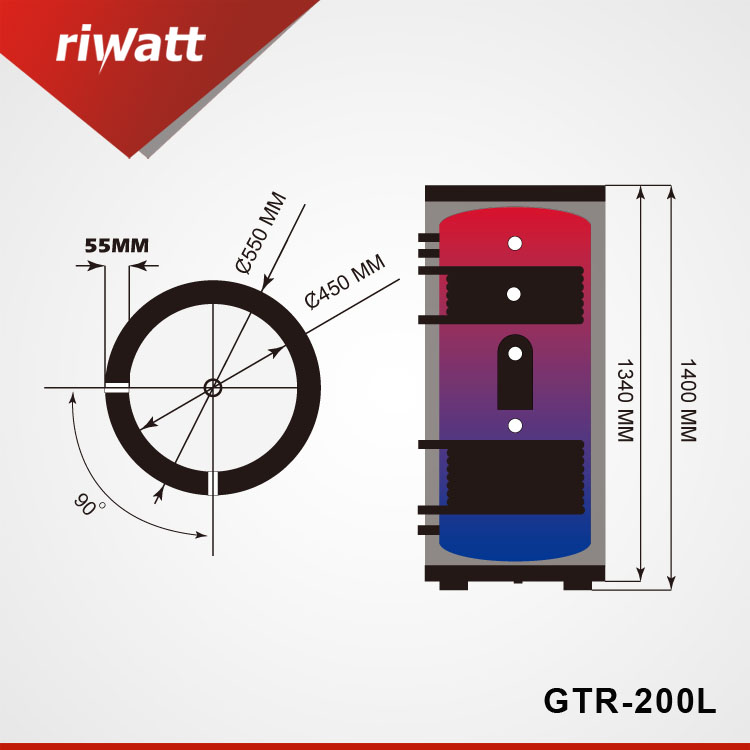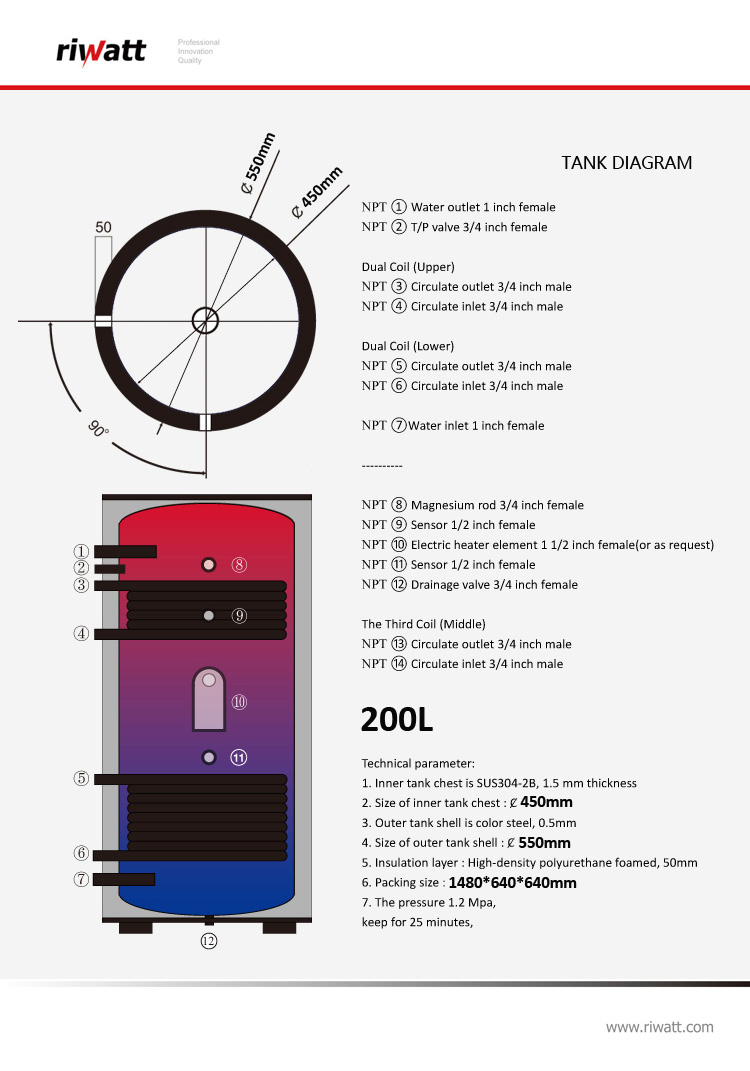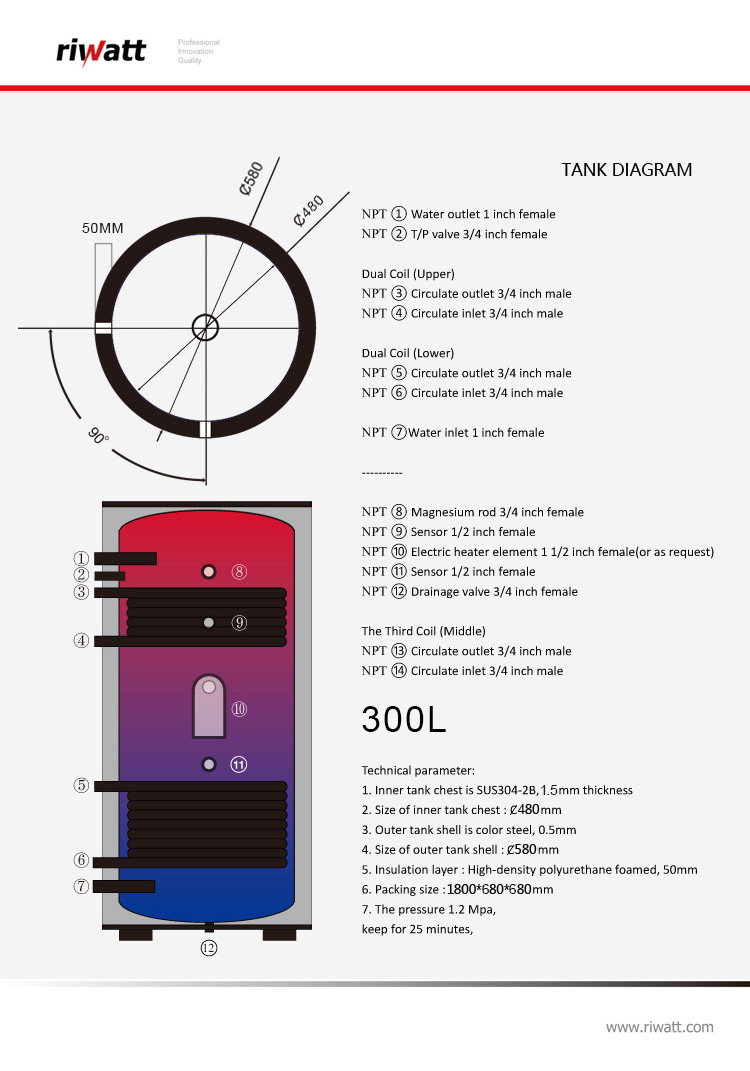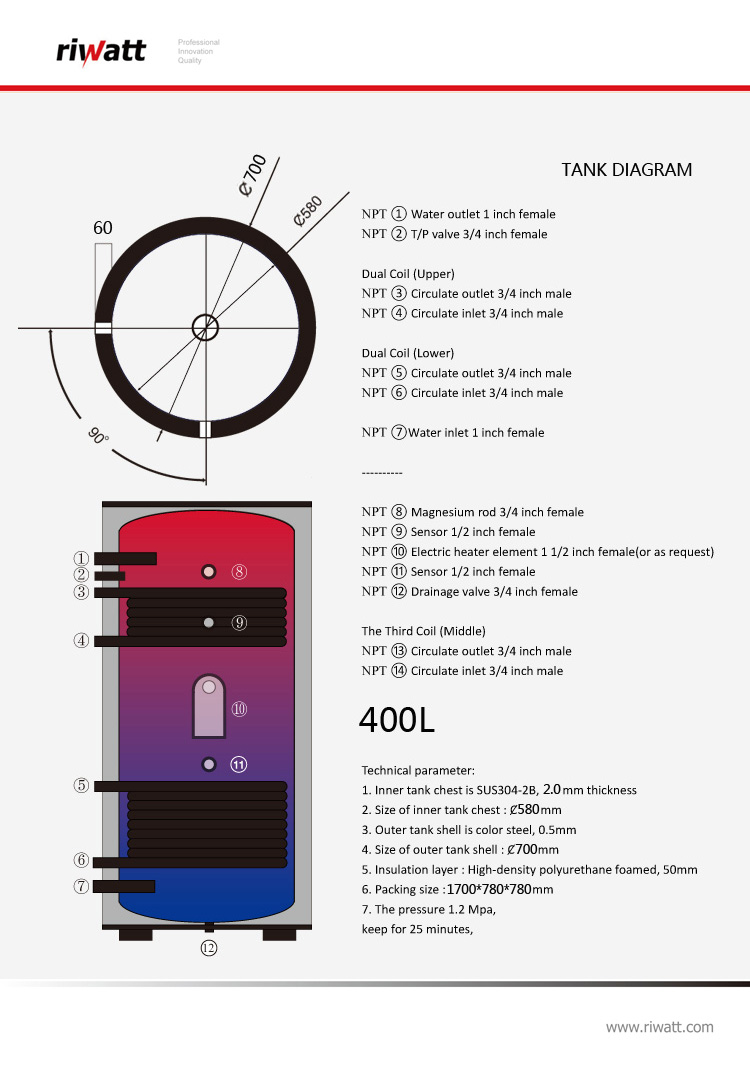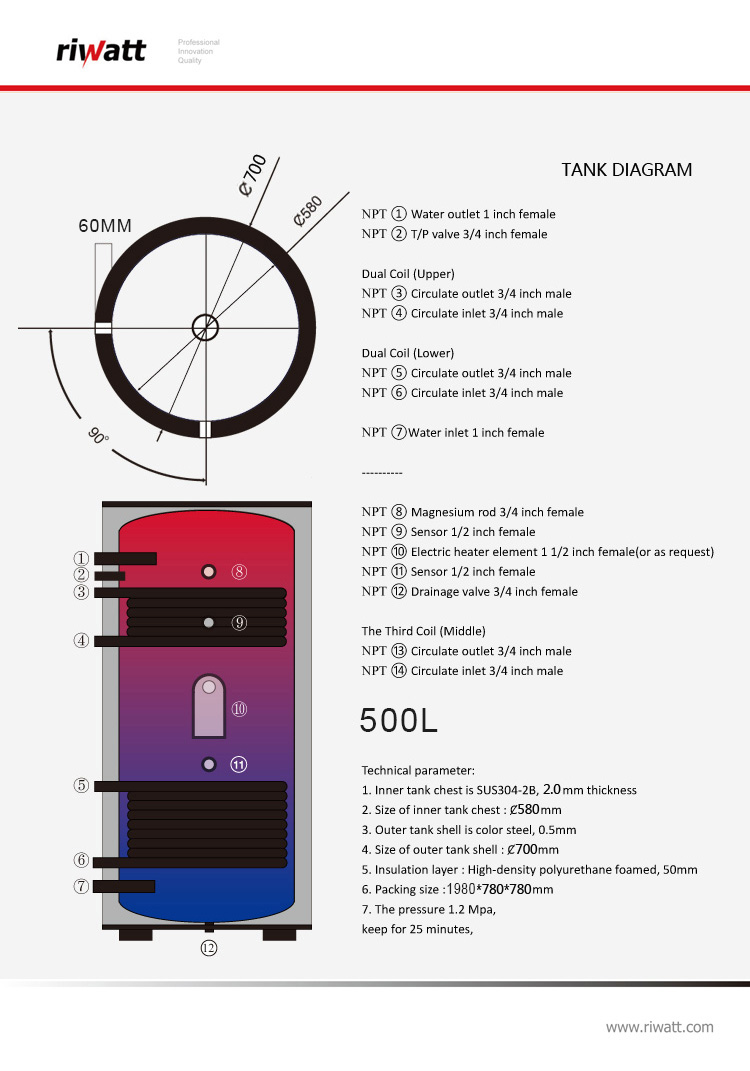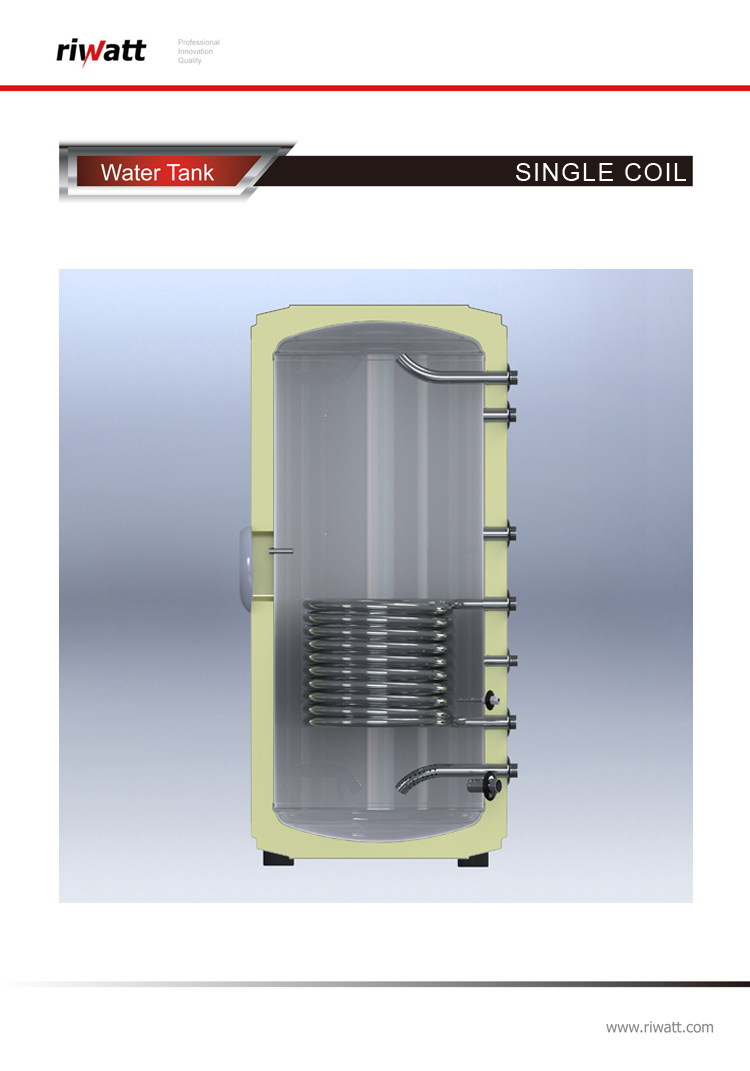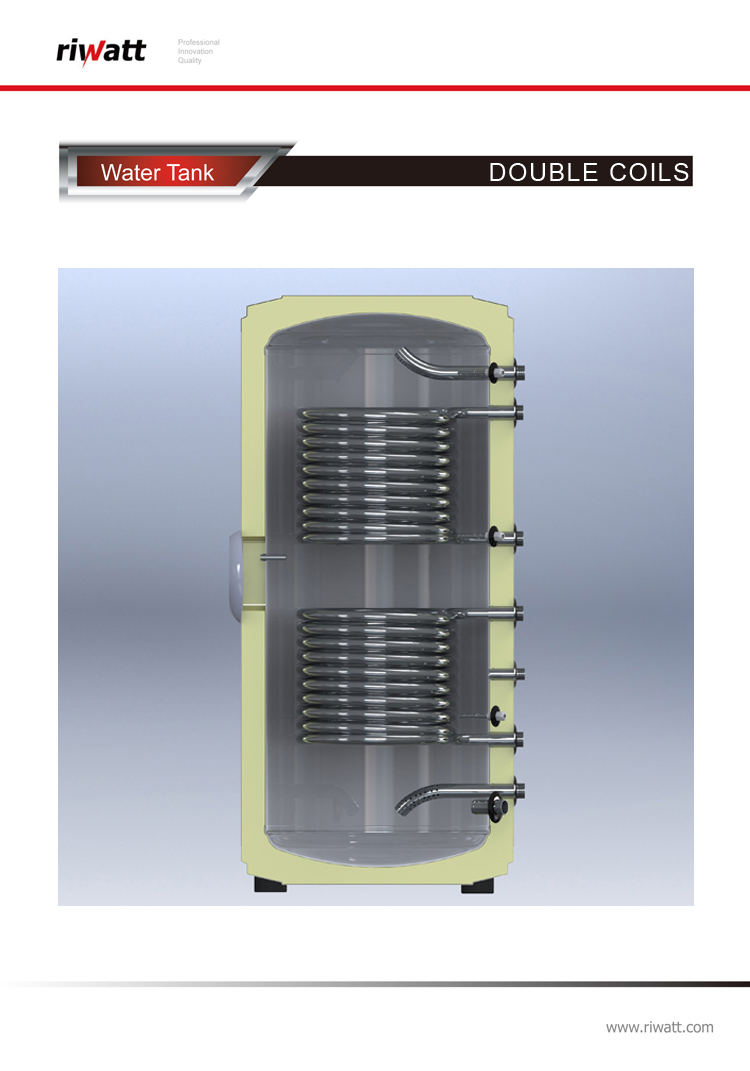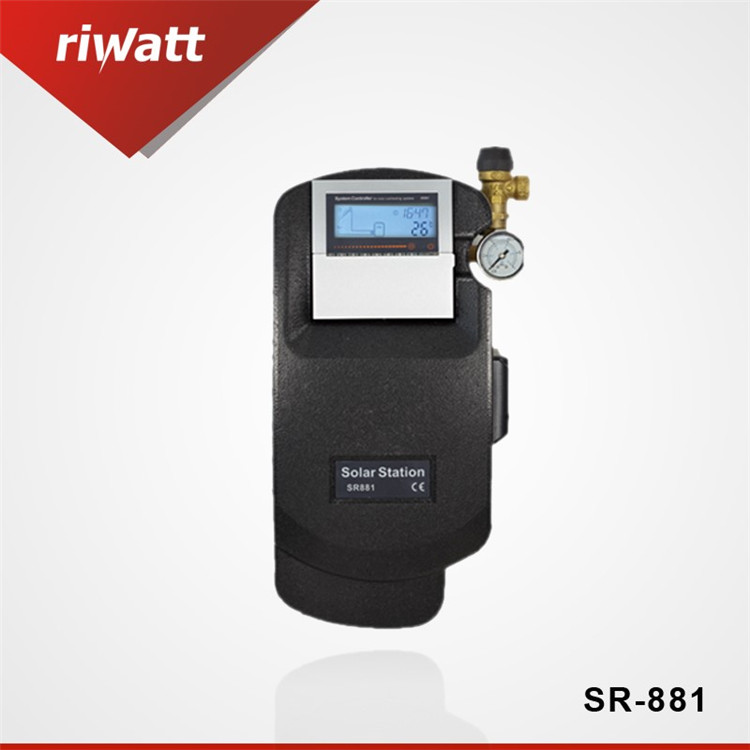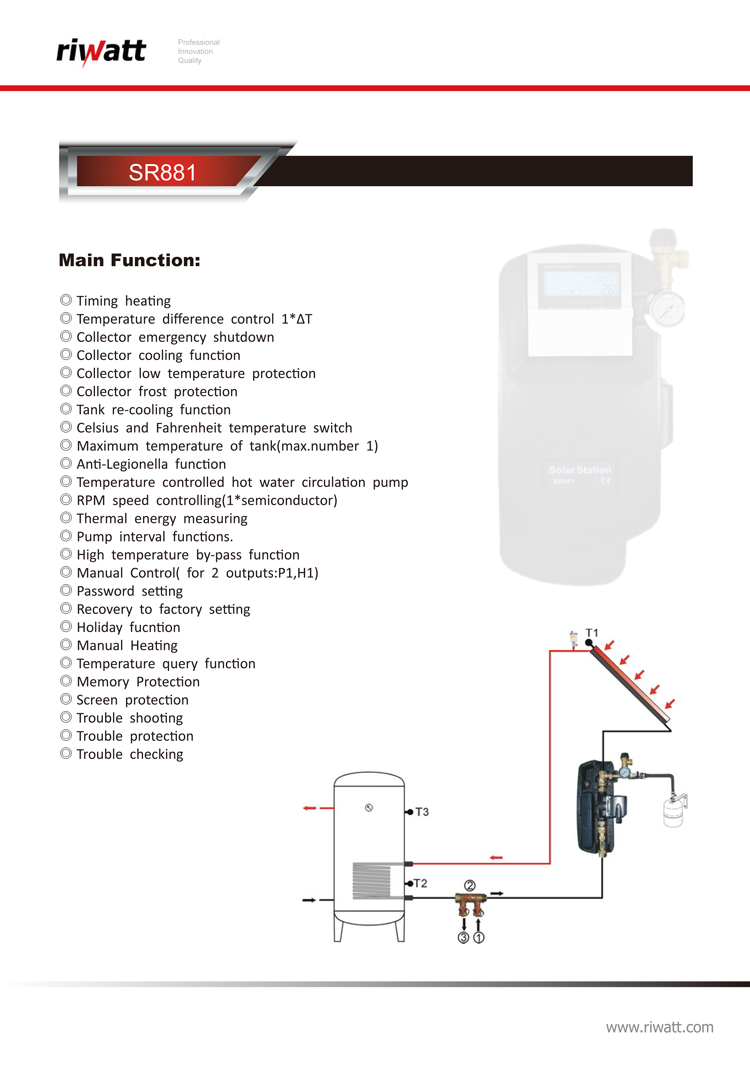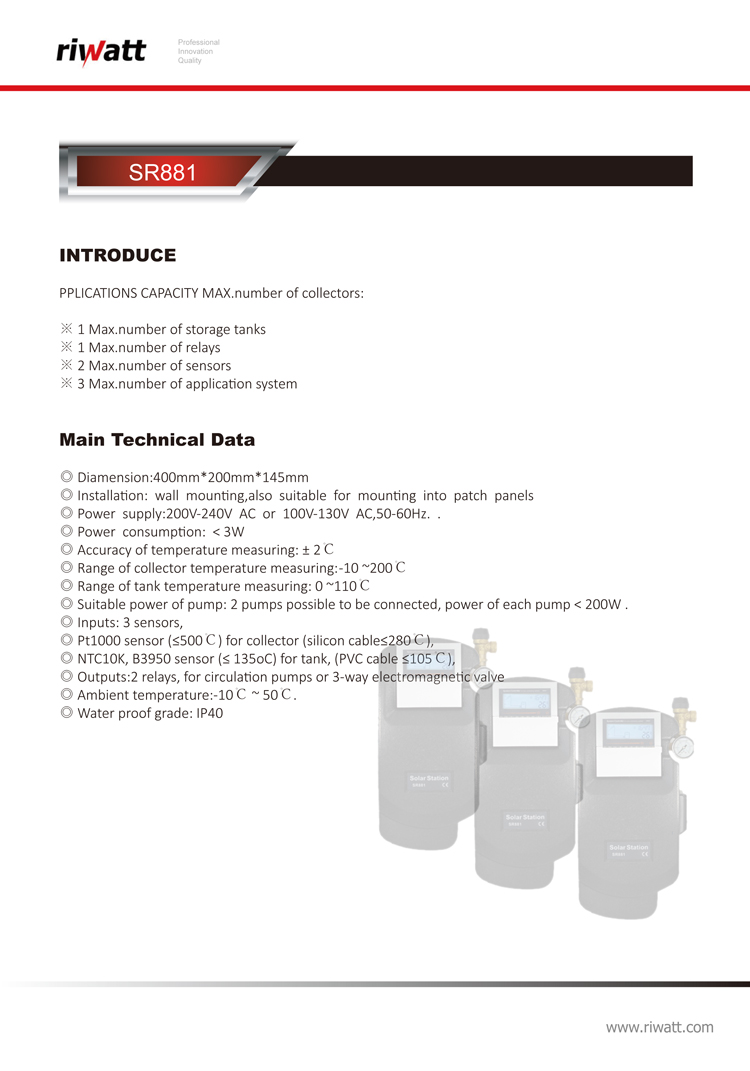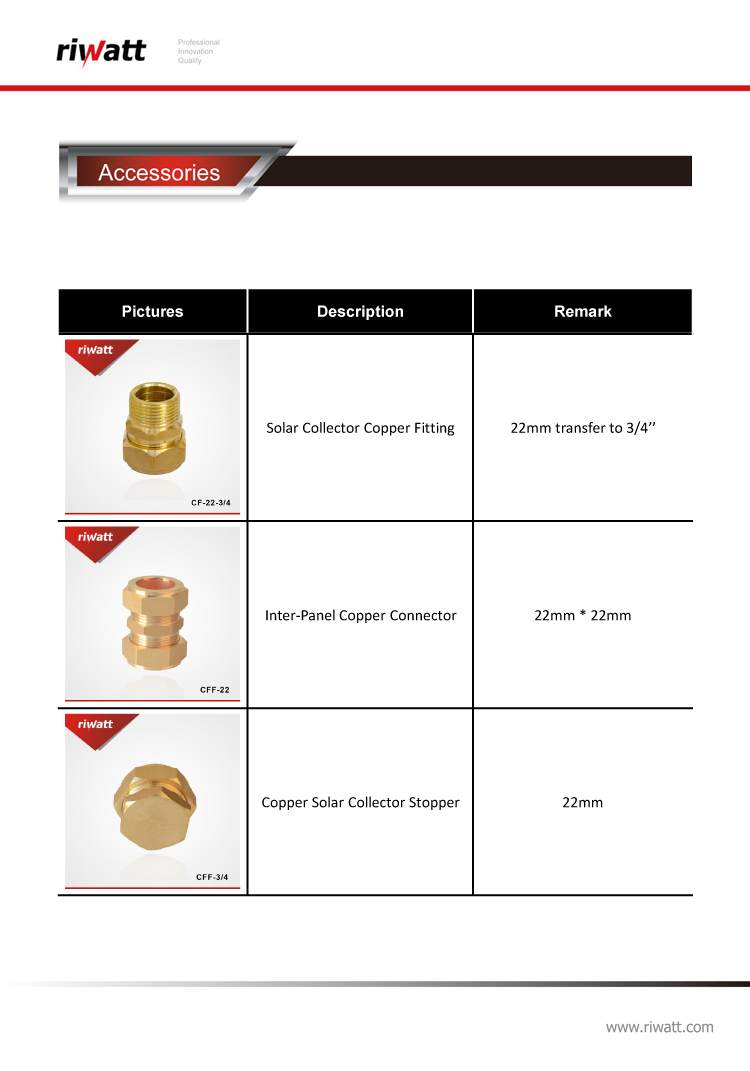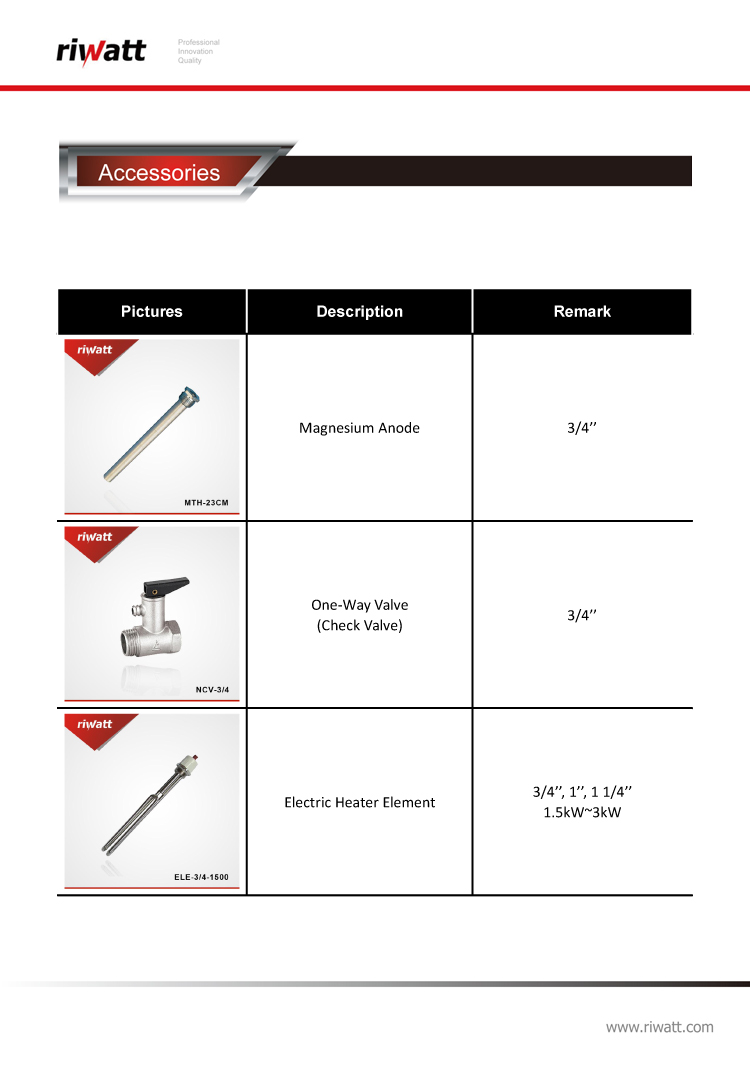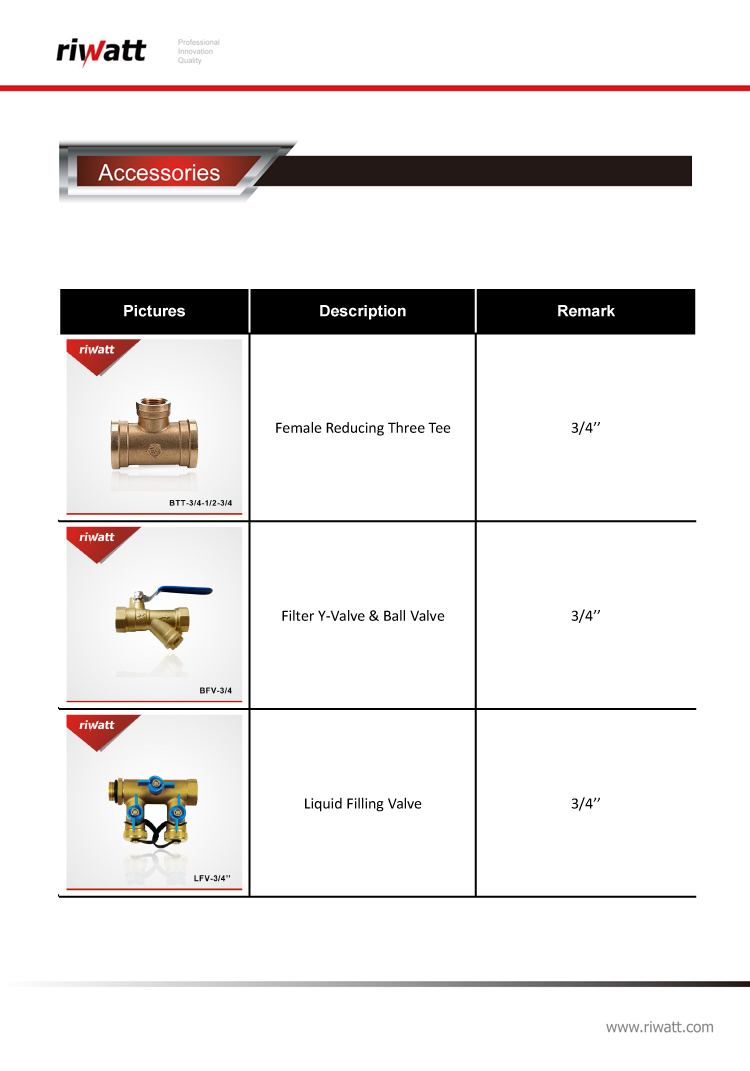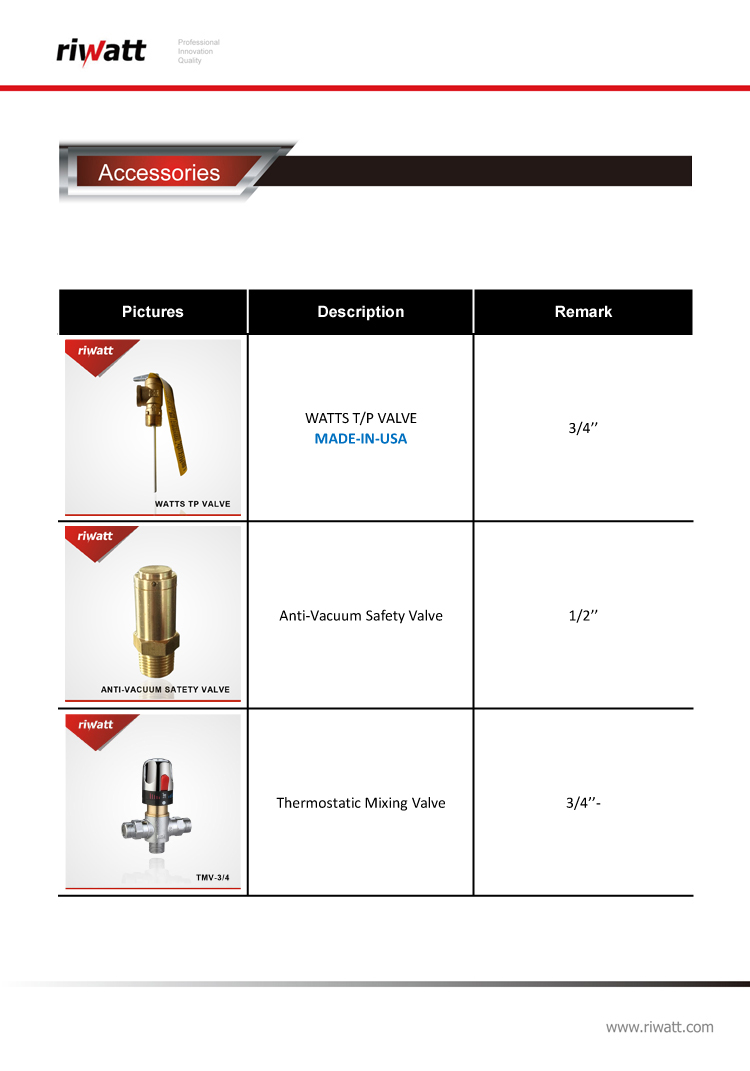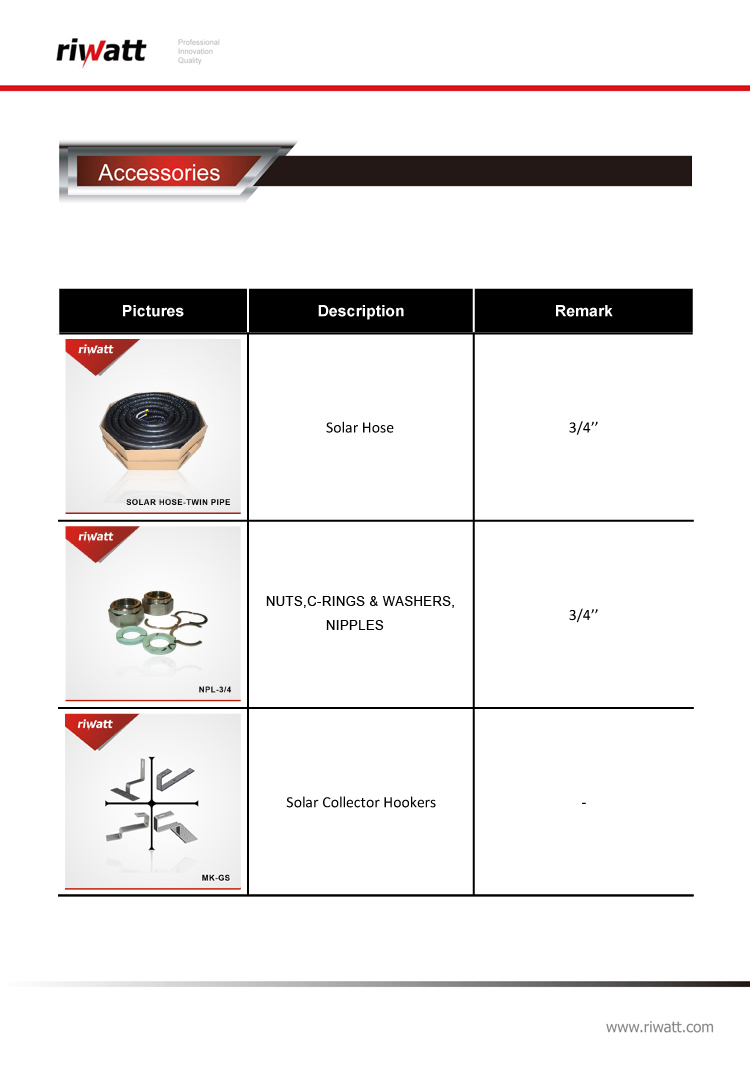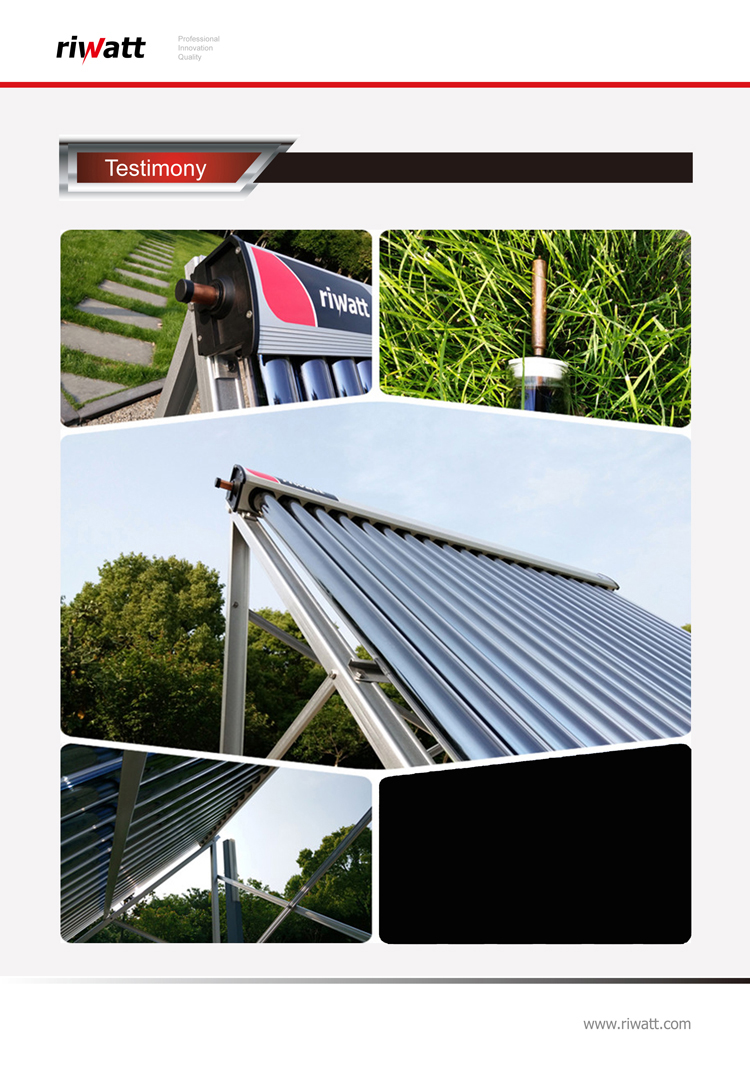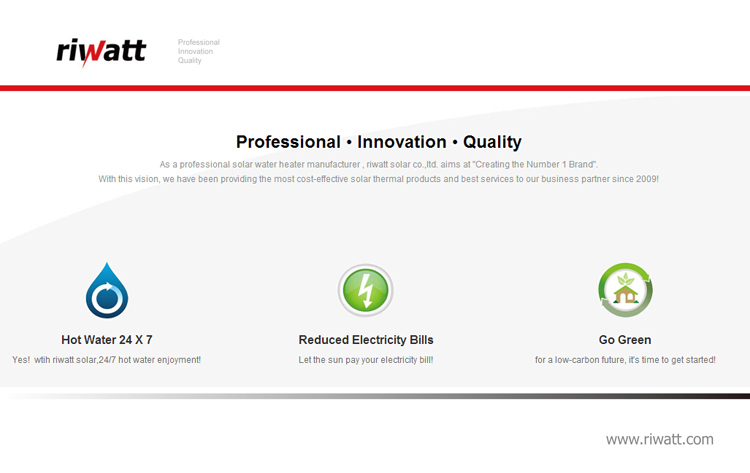 ANYSUN Serial High Pressure Solar Water Heater Specification:
1. Inner tank material:SUS304-2B stainless steel
2. Inner tank thickness:1.0/1.2/1.5/2.0/2.5mm
3. Outer tank material: ceramic white steel plate
4. Insulation layer:35/38/45mm high density polyurethane foam and 25mm aluminum silicate
5. Support material:2.mm import heat zinc steel plate or riwatt solar never rust al.alloy stand frame
6. Heater collector:new three target tube
7. Super Conducting riwatt BRAND heat pipe:High-purity copper system
8. Heater collectorsize: 10/12/15/20/24/30 tubes
9. Work station:instrument,expansion vessel,circulating pump,relife valve
10.Cubage: 100L,150L,200L,250L,300L,400L,500L
11. Heat collector working temperture: -37 to + 200 degree.
12. Electrical heater: 1.5 to 3KW.
13. Hot water temperature: 50-75
14. Pressure-endure ability:0.6~1.2Mpa
ANYSUN Serial High Pressure Solar Water Heater Trading Terms:
1. Payment terms: 30% in advance and 70% against B/L copy or 70% by L/C,
For sample T/T 100% in advance
2. Delivery terms: 15 working days after receiving deposit or original L/C.
3. Warranty: 7 years
4. Minimum quantity: 5 sets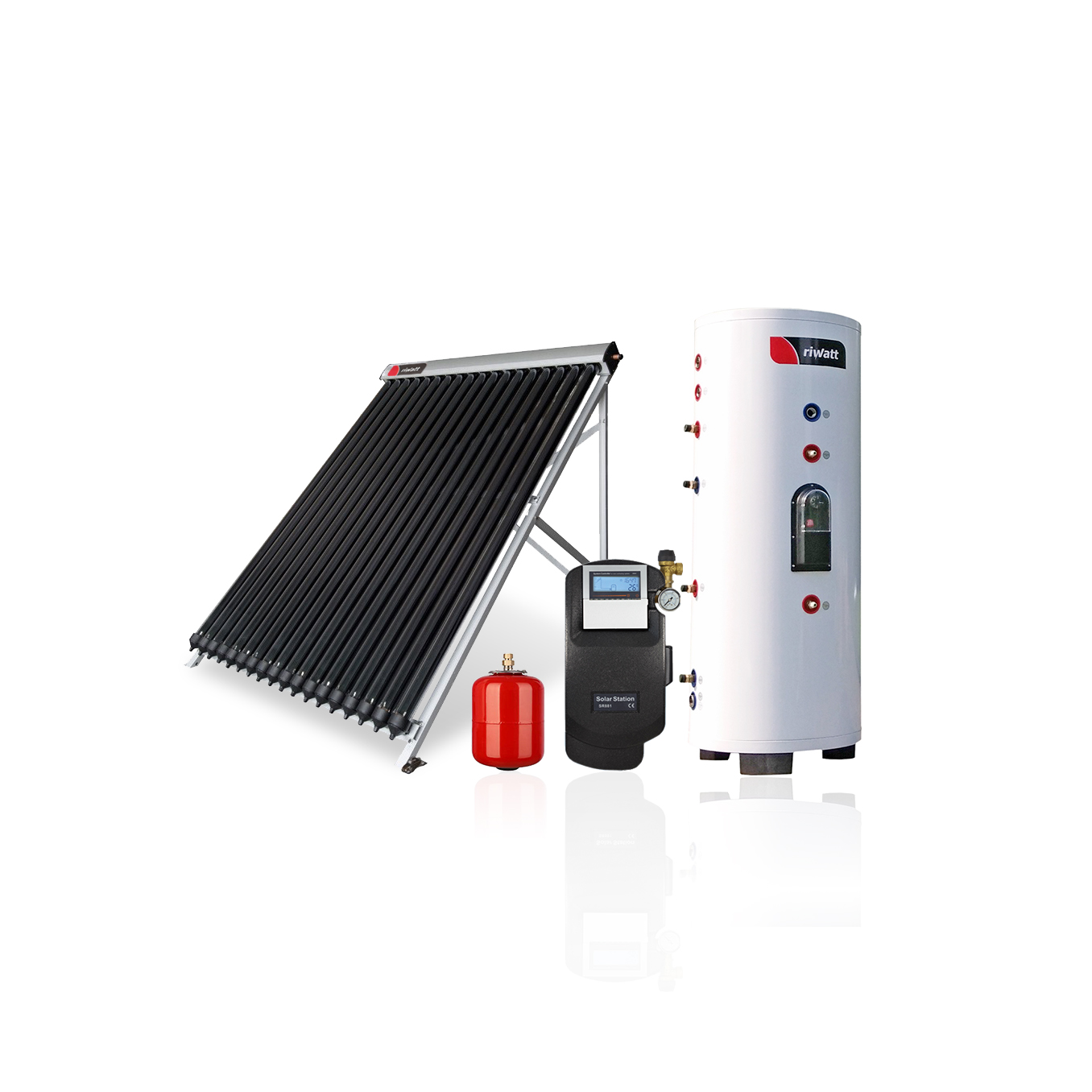 How solar thermal works
Solar water heating systems use solar panels called 'collectors'. They are normally fitted to your roof but can be ground or wall-mounted. These convert infrared light from the sun to heat water which is stored in a hot water cylinder. A boiler or immersion heater, or both, can be used as back up to heat the water further to reach the temperature you want when there is not enough sun to heat it fully. (This is also important to kill bacteria that can thrive in luke warm water.)
There are two main types of solar water heating panels:
flat plate collectors, which can be fixed on top of roof tiles or integrated into the roof
evacuated tubes set in frames normally mounted on the roof
Sizing
Solar thermal systems are generally sized on the basis of the number of bedrooms in the house and therefore the possible demand for hot water. If, however, you know that during the 20 year life of the system there will mostly only be, say, a couple in the house, then it will be more cost-effective to apply the rule of 1m2 of panel per person and 'one for the house' and try to source a competitively-priced system of this size. Collectors that are too large will spend much of the summer doing nothing but 'cooking' on the roof as the heated water is not used up so stays hot and does not circulate.