High Quality Evacuate Tube Solar Air Heaters Solar Hot Air Heating Collectors
Riwatt Solar Air Collector Widely use for food drying at affordable price and durable price.
for example, in the east of China, 1 set solar collector of 50 tubes solar air collector, can meet the requirement for 20 square meters regular house, with an average output ± 50~70 degree,
This system is very useful for drying, warming, such as drying food, drying tobacco, dring for pickled food….
In winter, can warm the classroom for children in the daytime….
System composition:
1. 50 tubes solar collector
2. 1 pcs 90W air boost pump
3. Bracket: galvanized steel type
4. Vacuum tube: 58*1800mm solar collectors with reflector mirror inside the vacuum tubes. efficiency is better,
5. There is TWO inner chests inside the solar collector manifold, one for cold air, another: hot air.6.
6. There is a glass tube(± 1500mm)inside each vacuum tubes.
7. A simple/portable controller panel,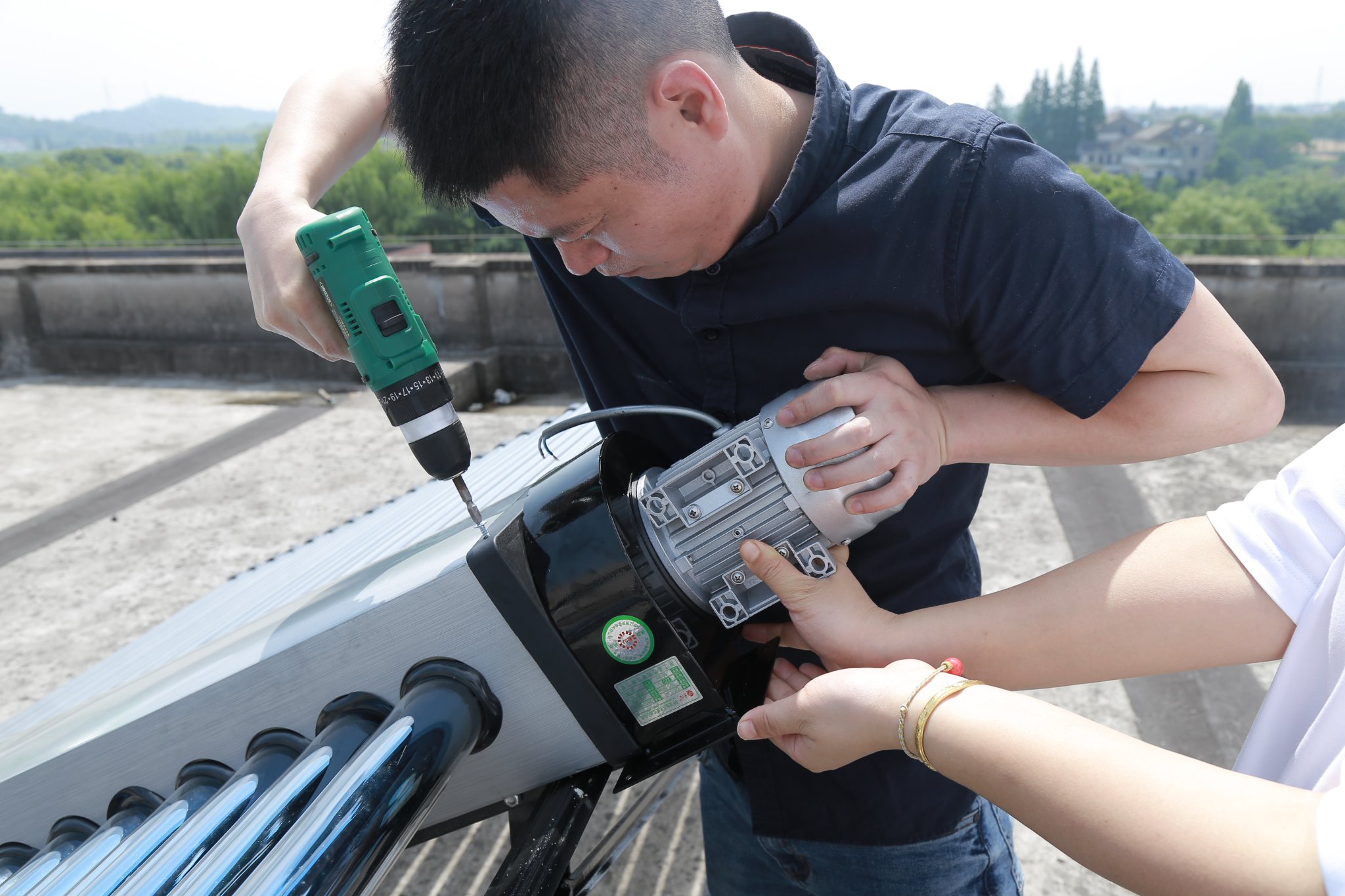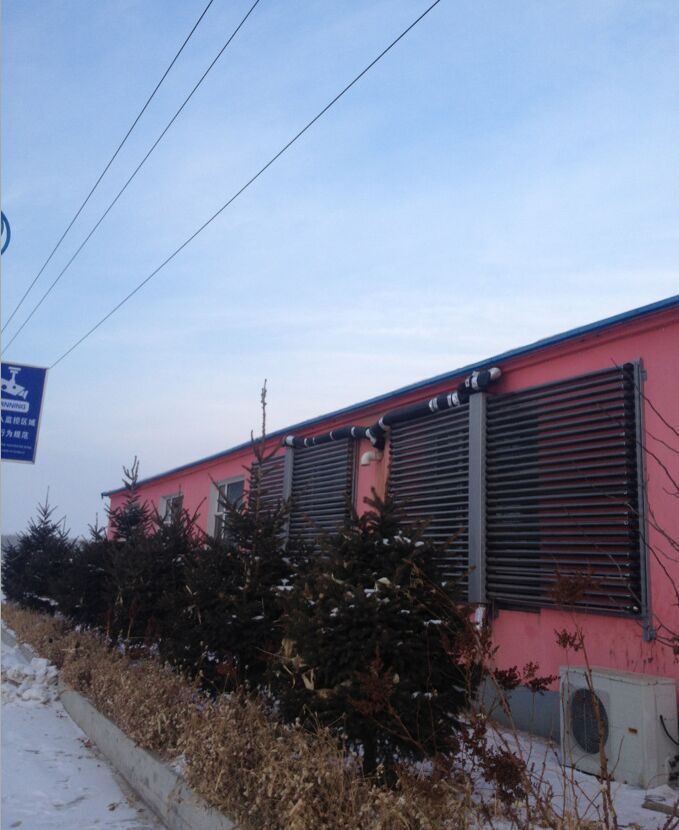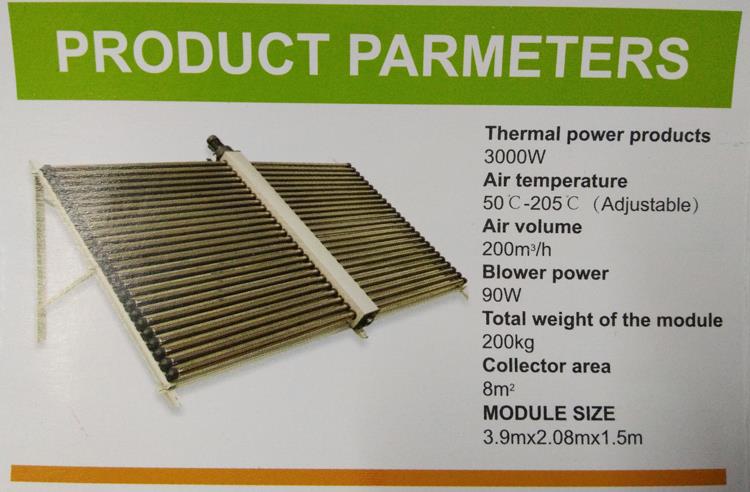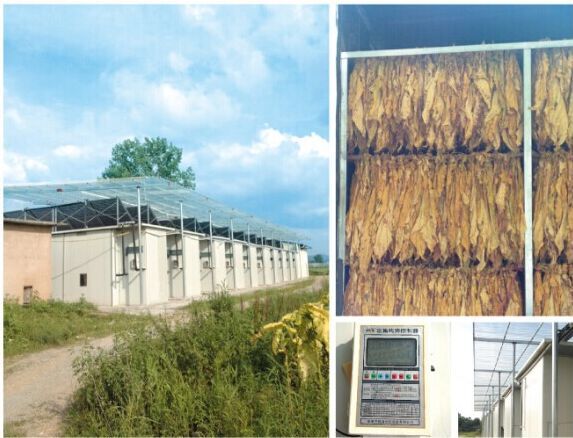 SOLAR AIR HEATER SPECIFICATION
Model 【AIR-50】
Inner Manifold Material Food-Grade Stainless Steel SUS304-2B 0.38MM
Outer Shell Material of Manifold SUS-304-2B
Frame Zinc-Coated Galvanized Steel,1.5mm, 25° Ground Stand
Insulation Layer "High-Density PU "
Tube Dimension 58*1800mm *【25+25】
Tube to Tube Distance 【75MM】
Tube Structure All-Glass Double Deck Co-Axial Structure
Absorb er Area 【6.650 m2】
Manifold Plumbing Connections 1''' Male Thread,1 1/4'',1 1/2'' Available
Hailstone Resistance Diameters of Less Than 25mm (1 inch)
Life Span Approximate to 15~25 Years
glass tube inside each vacuum tubes. (± 1500mm)
air boost pump 1 pcs 90W
1 set 50 tubes air heater 20 square meters room (roughly)
Average output ± 50~70 degree,
Others A simple/portable controller panel,
Application drying food, drying tobacco, drying for pickled food….
Application Space heating: house, office, classroom…..
SOLAR AIR HEATER SPECIFICATION DATA SHEET
Model
Tube Specification
Absorb er Area
Package Volume
Weight
Container Loading
Diameter
Length
Pieces
(M2)
(M3)
(Kgs)
20'GP/40'HQ (Sets)
【BUTTERFLY TYPE】
AIR-50
58mm
1800mm
50
6.650
0.71
160
40
96
ANY PENDING QUERIES, PLEASE FEEL FREE TO CONTACT US:
Mobile: +86 180 0660 1051
Inquiry E-Mail: info@riwatt.com
Web:www.riwatt.com